Bring out your child's inner inventor
With Invention Project® 6-9, kids can learn the business of innovation, from prototype to product launch. Through high-energy, hands-on activities, our program empowers each participant to turn ideas into inventions and find out how to bring those inventions to market, while honing key skills like collaboration, self-expression and entrepreneurship.
Each day brings new, inspiring activities to spark imaginations.
The business deals might be simulated, but the lessons are all real.
Media slider with 3 slides
Discover a few of the Invention Project 6-9 sessions
Middle school students will explore the basics of circuitry and counterbalance as they design and challenge their own motor-powered creatures.
Teams will explore Business 101 as they develop and market innovative shoes in a mock free-market economy. Style matters, but so do features and pricing, as well as marketing and manufacturing.
Young innovators are challenged to promote health and wellness through innovative video games.
Teams collaborate to evolve text messaging while discovering their own personal problem-solving style.
See a typical day with this middle school STEM program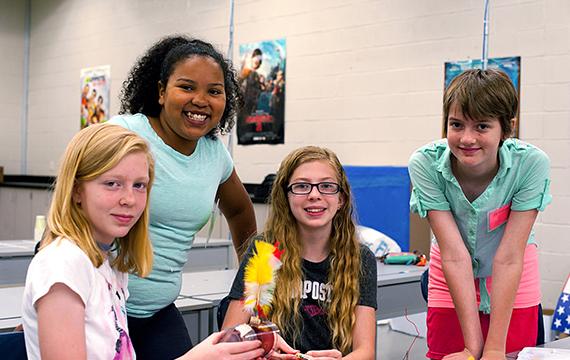 9 a.m. — Hangout Space
Kids sign in as a day of inventing begins. At Hangout Space (the room where they'll start and finish each day), they'll join up with friends and engage in one of several targeted activities to get warmed up for brainstorming, designing and teamwork.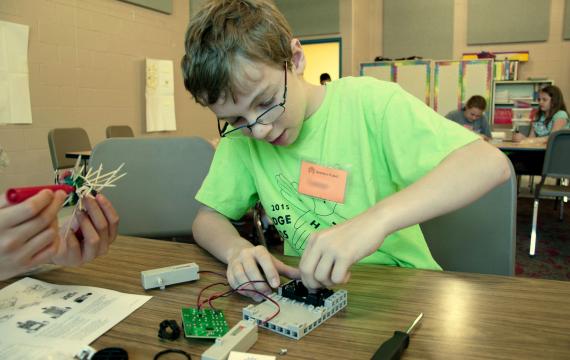 9:15 a.m. — Session 1: Brainstorm and Build
Kids will hear their first challenge of the day (like inventing a new way to use solar power) and brainstorm in teams to come up with as many solutions as possible. Once each team decides on an idea, they'll get to work building their inventions using special materials that are provided, as well as recyclables from the Inventor Supply Room.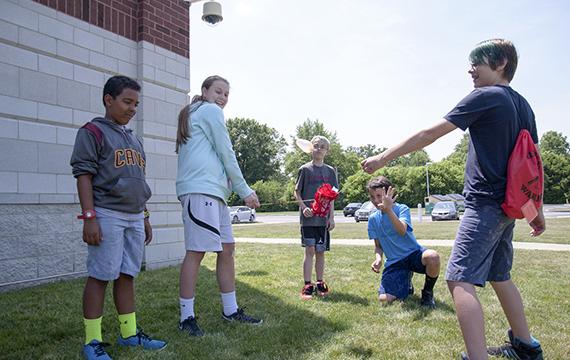 10:45 a.m. — M.O.V.E.
Next, it's time for our participants to get moving and play invention-themed games. They'll use their minds, hands, feet and a little imagination to race across the "ocean" by stepping on "boats," dodge water balloons and strategize tactics with teammates.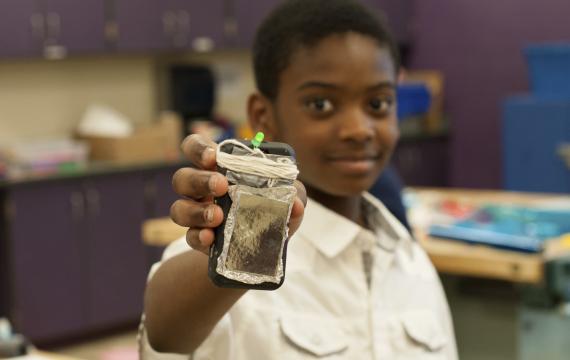 11:45 a.m. — Lunch
All great inventors need to take a break and refuel.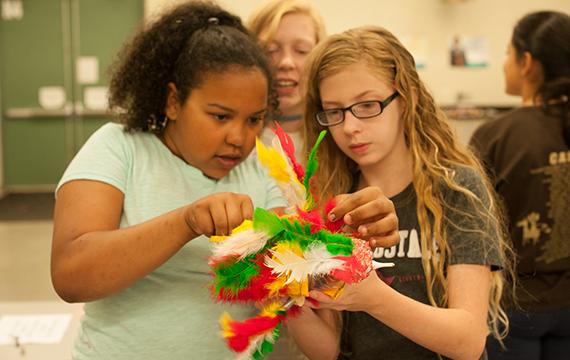 12:15 p.m. — Session 2: Design and Sell
Teams jump back into invention mode, but this time, they'll receive a totally new challenge, such as designing the next all-star athletic shoe. The sky is the limit, but teams will need to think fast and build fast. They'll also need to figure out how to take their inventions to the next level using marketing and entrepreneurship skills.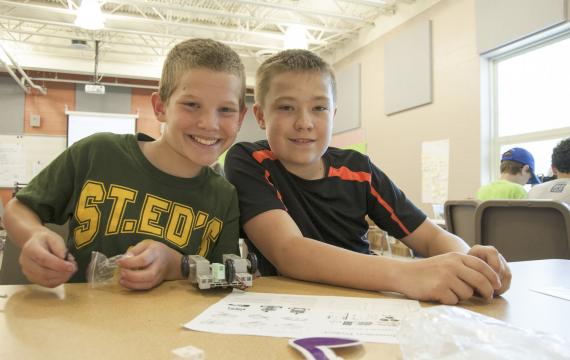 1:45 p.m. — Hangout Space
The day winds down back in Hangout Space where kids can sign out — though they might not want to leave.
9:15 a.m. — Session 1: Brainstorm and Build
12:15 p.m. — Session 2: Design and Sell
1:45 p.m. — Hangout Space
Become a part of something big
Help us make STEM education programs accessible to all children.
The following sponsors help make Invention Project possible: