Tour the National Inventors Hall of Fame Museum Exhibits
American innovation is always evolving — and so is the National Inventors Hall of Fame® Museum. Celebrating hundreds of exceptional U.S. patent holders and welcoming a new class of Inductees each year, our museum offers dynamic exhibits and interactive experiences designed to ignite the innovative spirit in visitors of all ages.
Experience Our Inspiring Core Exhibits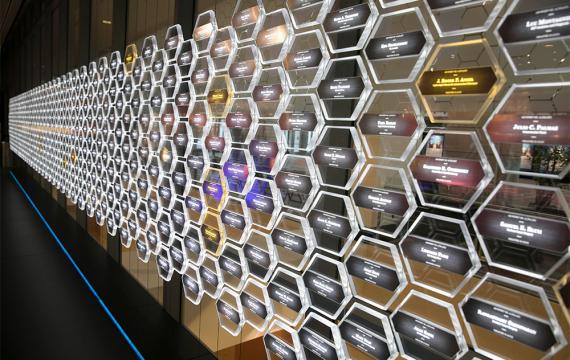 Gallery of Icons
Begin your visit with the Gallery of Icons™, where you'll see an extraordinary display of icons commemorating each of the more than 600 Inductees we've welcomed since our founding in 1973. Hung in a tessellating hexagon pattern inspired by honeycombs and organized by patent number, this is a stunning visual representation of the history of American innovation.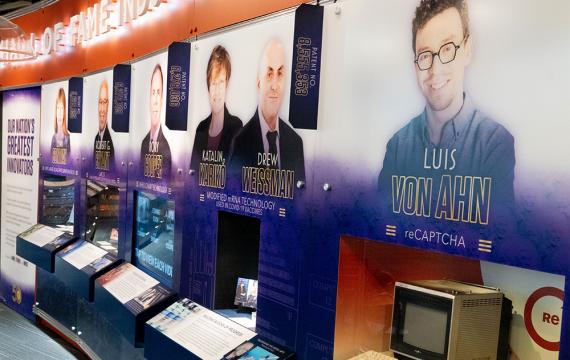 2023 Class of Inductees
Meet our latest class of Inductees, recognized in partnership with the United States Patent and Trademark Office. Learn about the work of trailblazers including Emmanuelle Charpentier and Jennifer Doudna, inventors of CRISPR-Cas9 gene editing; Luis von Ahn, inventor of reCAPTCHA; and Marjorie Stewart Joyner, inventor of the permanent wave machine.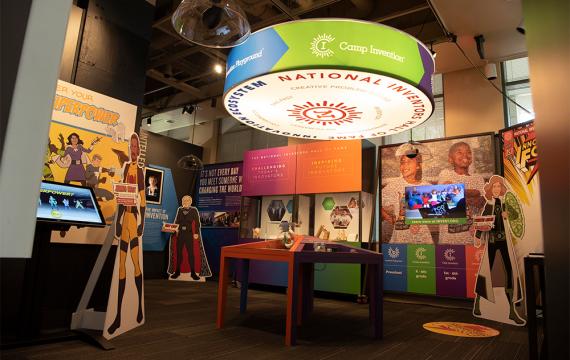 Programs Room
Redefining what a Hall of Fame can be and do, we reach beyond the walls of our museum to inspire the next generation of creators, innovators and entrepreneurs. The Programs Room introduces visitors to our nationwide learning opportunities for PreK through college, designed to unlock creative potential through hands-on exploration and valuable lessons from our Inductees.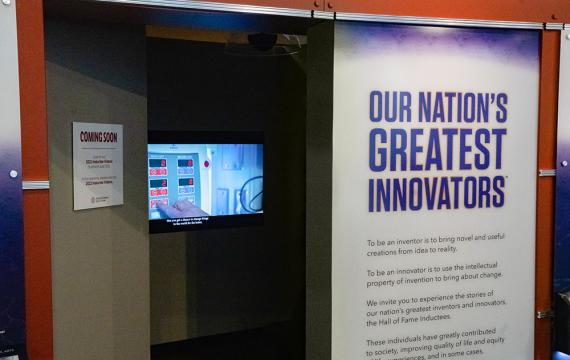 Inductee Video Room
For the inside story of innovation, step into the Inductee Video Room. See unique interviews with some of the world's greatest inventors and get a glimpse into our Inductees' personal stories, in their own words.
Women in Innovation
Witness powerful interviews with women and girls in STEM (science, technology, engineering and mathematics) when you visit this exhibit sponsored by Qualcomm. As you learn about lifesaving breakthroughs and world-changing inventions, you'll see how greater diversity in patenting contributes to the innovation economy.
Breaking Barriers: Honoring Extraordinary Black Inventors
Reflect on the stories of National Inventors Hall of Fame Inductees and more barrier-breaking innovators who have shaped our country and our world. You'll find visionaries including Inductee Thomas Jennings, who invented the dry-scouring dry cleaning method and became the first Black inventor to be awarded a U.S. patent, and Madam C. J. Walker, the inventor, entrepreneur, philanthropist and activist who was one of the first American women to become a self-made millionaire.
Champions of Innovation
Meet the team of inventors behind the revolutionary Jogbra®: the world's first sports bra. Inductees Lisa Lindahl, Hinda Miller and Polly Smith removed a barrier to women's participation in athletics, advanced women's health and launched a global industry. This exhibit, sponsored by Champion, explores their lasting impact and tells the story of the Champion brand, giving women the confidence and support to reach their goals.
Connectivity Changes Everything
Trace the evolution of wireless technology from the breakthroughs that power your smartphone to the everything-connected world of 5G at this exhibit sponsored by Qualcomm. You'll see how National Inventors Hall of Fame Inductees, including Qualcomm co-founders Irwin Jacobs and Andrew Viterbi and actress-inventor Hedy Lamarr, contributed to a more connected world.
50 Years of Automotive Design and Technology
Climb inside a car that merges Ford Mustang models from 1965 and 2015 to see and feel the evolution of automotive design and technology. Sponsored by Ford Motor Co., this one-of-a-kind, interactive exhibit showcases 50 years of iconic innovation.
The Power of Trademarks
Discover the value of intellectual property when you visit this exhibit sponsored by the International Trademark Association (INTA). There is no better way to learn what trademark protection has meant for the brands you know and trust.
Don't Miss Our Limited-Time Exhibits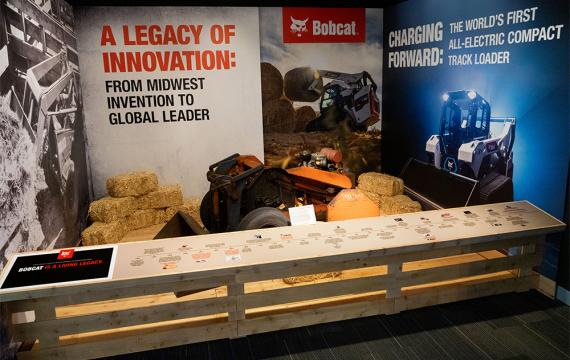 A Legacy of Innovation
Sponsored by the Bobcat company, this exhibit traces its evolution from a Midwest invention to a global leader. See a 1958 prototype of the world's first compact loader – the forerunner to the Bobcat® skid-steer loader – created by 2023 Inductees Louis and Cyril Keller, discover a rich history of intellectual property and imagine the future of the compact equipment industry.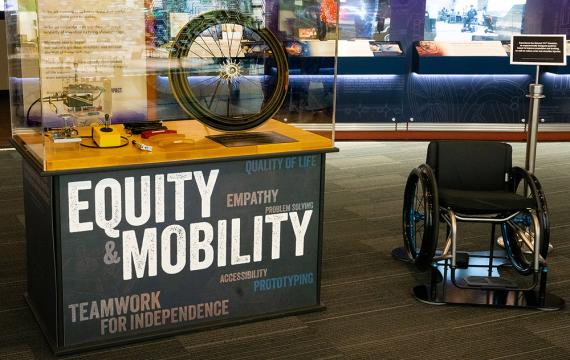 Human Engineering
Feel the difference made by the patented wheelchair pushrim developed by 2023 Inductee Rory Cooper, founder of the Human Engineering Research Laboratories (HERL). When you visit this interactive exhibit, you'll discover how Cooper and HERL are prototyping an equitable today and innovating a better tomorrow.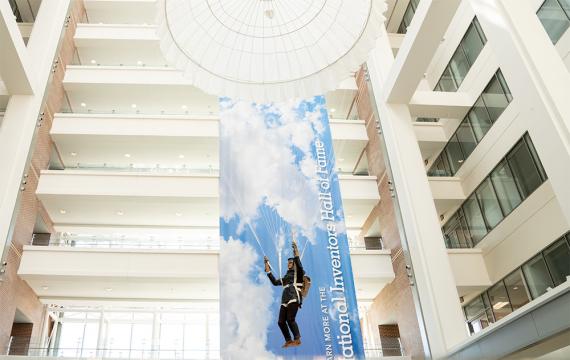 Invention: The Sky is the Limit
Feel the rush of a virtual skydive! Inspired by Inductee Floyd Smith, the daring trapeze artist and aviator who invented the modern parachute, this exhilarating exhibit gives you the chance to experience a freefall, deploy a parachute and enjoy a safe landing.