National Inventors Hall of Fame Exhibits
Preview highlights from our rotating collection of special exhibits, now on display.
COMING SOON
Higgins Boat Makes Another Landing
This June commemorates the 75th anniversary of the historic D-Day landing on the beaches of Normandy during World War II. To honor this historic moment, the NIHF Museum will be 'landing' a restored Higgins Boat in Dulany Gardens — just outside of the NIHF Museum — at the USPTO Headquarters in Alexandria, Virginia.
Starting April 27, you can climb aboard and experience the "Boat That Won the War!"
Gallery of Icons
The museum's key attraction is the inspiring Gallery of Icons™. Here, you'll find icons commemorating each of the more than 500 National Inventors Hall of Fame® (NIHF) Inductees we've welcomed since our founding in 1973. Hung in a tessellating hexagon pattern inspired by honeycombs and organized by patent number, this is a stunning visual representation of the history of American innovation.
Familiar names include the prolific Thomas Edison, who filed more than 1,000 patents, including the electric light bulb; the high-flying Wright Brothers, who successfully piloted the first powered aircraft; the brilliant Stephanie Kwolek, who invented the life-saving Kevlar fiber worn by police officers and military personnel across the world; and George Washington Carver, who famously developed crop-rotation methods for conserving nutrients in soil and discovered hundreds of new uses for crops such as the peanut and sweet potato.
Intellectual Property Power
Sponsored by Ford Motor Co., INTA and Qualcomm and in partnership with the George Eastman Museum, Intellectual Property Power® focuses on revolutionary Intellectual Property that has made a significant impact in our daily lives.
Experience 50 years of automotive design and technology when you climb inside a car that merges Ford Mustang models from 1965 and 2015.
Sneak Peek
Test your knowledge of authentic and counterfeit products at the interactive INTA exhibit.  
Sneak Peek
See how Qualcomm founder Dr. Irwin M. Jacobs contributed to a more connected world as you take a close look at smartphone technology. 
Sneak Peek
Explore photographic advancements as you interact with the inventions of NIHF Inductees George Eastman, Steve Sasson and Eric R. Fossum. 
Sneak Peek
Images Slider with 4 slides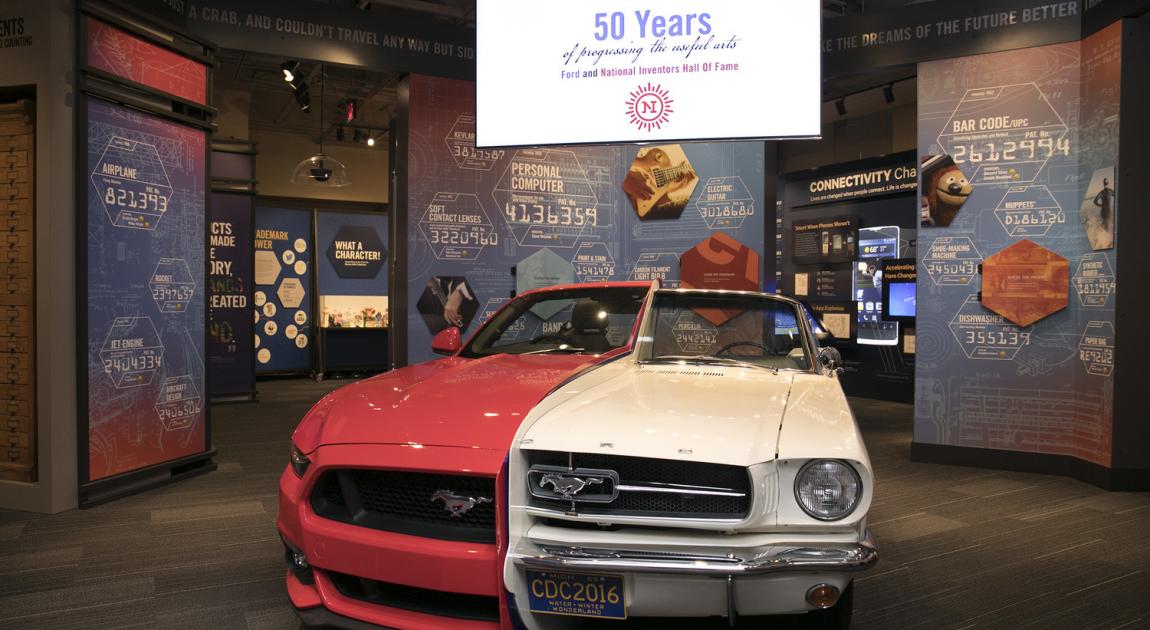 2018 Inductees
Each year, in partnership with the United States Patent and Trademark Office, we recognize another class of Inductees and bring their incredible contributions to life in a new exhibit. 
Our 2018 Class includes visionaries like Stan Honey, inventor of Sports Broadcast Graphic Enhancements; Sumita Mitra, inventor of Nanocomposite Dental Materials; and Joseph C. Shivers Jr., inventor of LYCRA® Fiber (Spandex).
1st & Ten Line Stadium
Get in the game with the 1st & Ten Line Stadium exhibit, inspired by NIHF Inductee Stan Honey, inventor of the Virtual Yellow 1st & Ten® line. Visitors can step onto the turf to experience the sounds and visuals of a real football game. This hands-on exhibit puts you on the big screen, as you control the placement of the Virtual Yellow 1st & Ten® line.
Interactive Kiosks
Each day, we encounter an estimated 1,500 trademarks in the form of colors, characters, slogans and logos. When you visit our interactive kiosks, you can put your trademark and patent knowledge to the test.
Challenge your family to try matching some of the most iconic images and sounds to their respective brands. Then, find your inventor superpowers by answering questions that will align you with one of our superhero National Inventors Hall of Fame Inductees.
Visionary Veterans
To commemorate the 100th anniversary of the United States entering World War I, the National Inventors Hall of Fame honors its Inductees who served during The Great War. In our Visionary Veterans® exhibit, you'll learn the stories of five WWI veterans responsible for innovations that continue to benefit our world.