The Collegiate Inventors Competition Judging Process
Find out how we determine the Winners.
Judging Is Completed In Two Rounds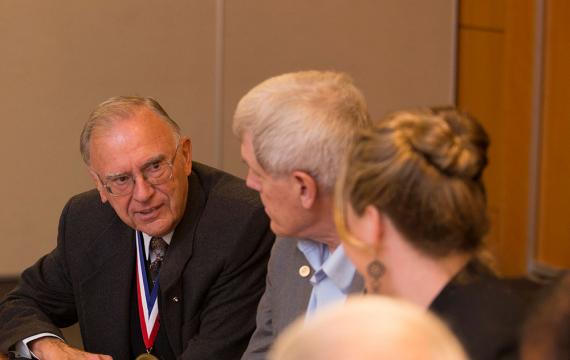 Round One: Initial Judging
Each Collegiate Inventors Competition® (CIC) entry is reviewed by our initial judging panel, which includes scientists, researchers and experts in a variety of fields.
The National Inventors Hall of Fame® (NIHF) relies on the Judges' collective scores and rankings, along with data collected by independent researchers, to determine our CIC Finalists.
All Finalists are notified two months before our final judging round.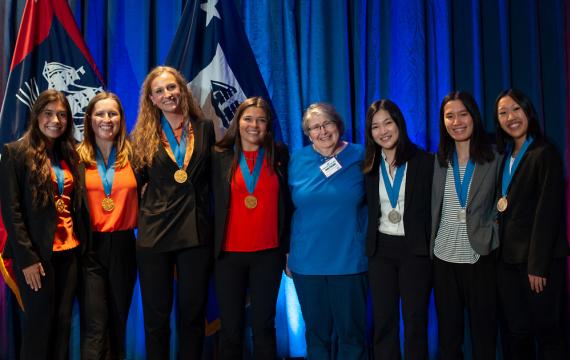 Round Two: Final Judging
In October, CIC Finalists gather at the United States Patent and Trademark Office (USPTO) headquarters in Alexandria, Virginia. Here, they meet with our final judging panel to formally present the work they've done to develop their extraordinary inventions.
Our final judging panel consists of NIHF Inductees and special guest Judges, which have included intellectual property experts from the USPTO, the White House Office of Science and Technology Policy, and Abbott Laboratories, among others.
Following the Finalists' presentations, our Judges deliberate to select Winners in both the Graduate and Undergraduate categories.
Round One: Initial Judging
Meet our 2023 Judges
NIHF Inductees
JD Albert
Electronic Ink
2016 National Inventors Hall of Fame Inductee
Sylvia Blankenship
1-MCP for Fruit, Vegetable and Flower Freshness
2022 National Inventors Hall of Fame Inductee
Eric R. Fossum
CMOS Active Pixel Image Sensor Camera-on-a-Chip
2011 National Inventors Hall of Fame Inductee
Marcian "Ted" Hoff
Microprocessor
1996 National Inventors Hall of Fame Inductee
Don Keck
Optical Fiber
1993 National Inventors Hall of Fame Inductee
Alois Langer
Implantable Heart Defibrillator
2002 National Inventors Hall of Fame Inductee
Frances Ligler
Portable Optical Biosensors
2017 National Inventors Hall of Fame Inductee
Sumita Mitra
​​​​​​Nanocomposite Dental Materials
2018 National Inventors Hall of Fame Inductee
Kumar Patel
Carbon Dioxide Laser
2012 National Inventors Hall of Fame Inductee
Radia Perlman
Robust Network Routing and Bridging
2016 National Inventors Hall of Fame Inductee
Steve Sasson
Digital Camera
2011 National Inventors Hall of Fame Inductee
Gary Sharp
Polarization-Control Technology
2015 National Inventors Hall of Fame Inductee