Camp Invention Is a STEM Summer Program That Turns Curious Students Into Innovative Thinkers
Identify inventors as role models
Develop creative problem-solving skills
Every child can invent
Camp Invention® is a nationally acclaimed summer program where STEM concepts come to life. Led by local teachers, this program has tapped into kids' natural curiosity since 1990, giving them the opportunity to become innovators through teamwork and immersive, hands-on creative problem-solving.
Our camp is designed to keep kids engaged.
We give our campers a strong STEM foundation.
Looking for more programs? We provide STEM education for all ages.
Over 1,600 programs nationwide. Find camps near me.
Find Programs
Unlock your child's potential
For nearly two decades, Camp Invention's impact has been measured through independent evaluations. These evaluations have shown that participation in just one week of Camp Invention results in statistically significant short-term and long-term improvements in1:
Creativity
STEM interest
Collaboration
Problem-solving skills
Camp Invention also supports stronger school performance. A third-party evaluation found that participation in Camp Invention contributes to these three key steps to ensuring your child follows a college path2:
Increased attendance
Increase in students' average GPA
Improved test scores
Discover our new 2019 Camp Invention program
Each year, our education team collaborates with National Inventors Hall of Fame® Inductees to develop a new, action-packed Camp Invention experience for your child. With our 2019 program, Supercharged™, campers will take on four exciting challenges, meet innovative superheroes and bring home newfound confidence.
Innovation Force®
Children team up with the Innovation Force, a group of NIHF Inductees who have been transformed into superheroes, to battle the evil Plagiarizer, a supervillain who is out to steal the world's ideas. As children create a device to retrieve the stolen ideas, they learn about the importance of collaboration and patents.
Deep Sea Mystery™
Children embark on a research adventure at sea, but soon find themselves stranded on an island. Using lessons and advice from NIHF Inductees, children work in teams to invent island-survival tools and underwater equipment and navigate their way back home.
Farm Tech™
Children manage their own farm as they learn the basics of running a business. With the assistance of Bot-ANN-E, a programmable robot, campers learn fundamental coding techniques to maximize their time and profits and perform mock DNA experiments to check the health of their cattle.
DIY Orbot™
Children explore frequency, circuit boards, motors and gears as they use real tools to reverse engineer a remote-controlled DIY Orbot. Throughout the week, campers will adapt their DIY Orbot to perform increasingly challenging tasks from sports to art.
Watch our program in action
See a typical day at Camp Invention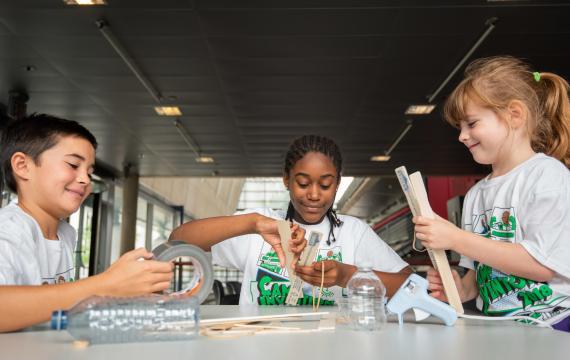 Welcome
Check your child in before our Camp Director kicks off a day of fun!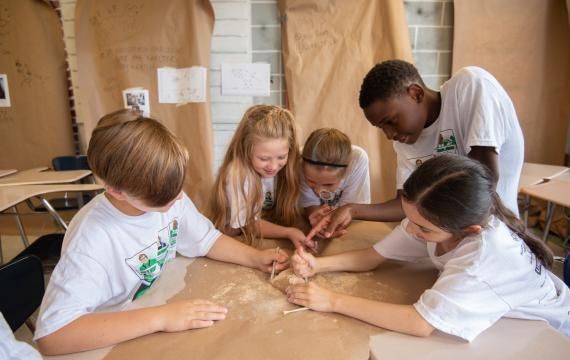 Teamwork
Educators and Leadership Interns gather campers together at Base Camp.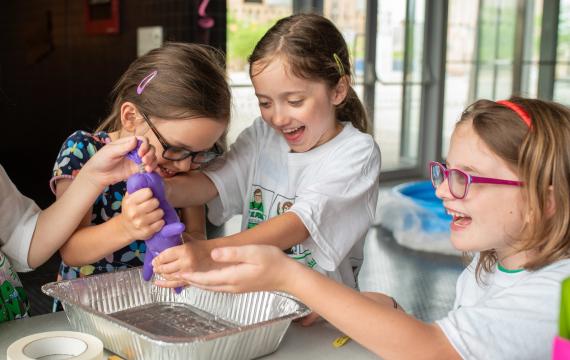 Morning modules
Led by a certified local instructor, your child completes two creative challenges (or modules) before lunch — with a healthy snack to keep their minds moving.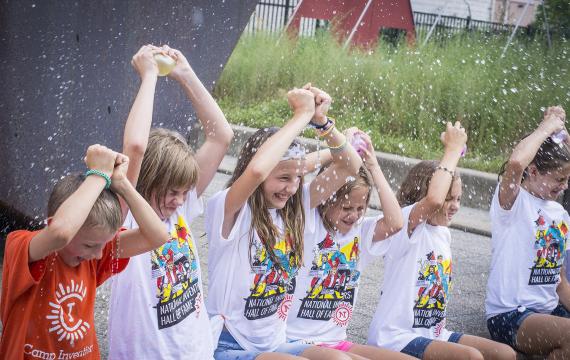 Lunch break
While half our campers eat, the other half refuel with some well-deserved playtime outside or in the gym. Then they switch!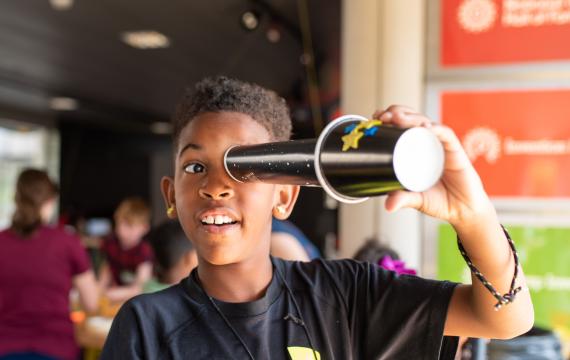 Afternoon modules
Time for two more challenging modules that will inspire your child's imagination.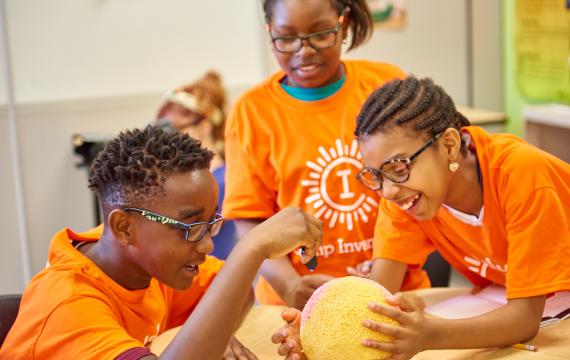 Base camp
Our campers regroup with their Leadership Interns to focus on problem solving — crucial for future inventing (and everyday life).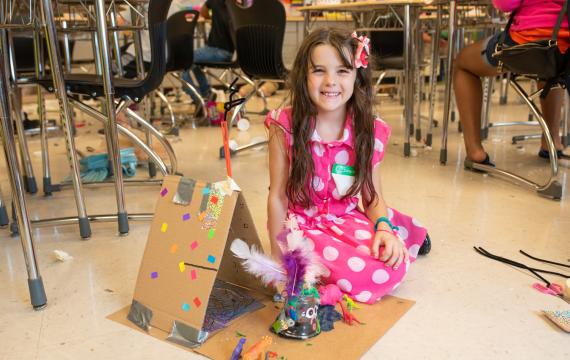 Sign out
Be prepared for lots of updates from your child about how much fun they had at Camp Invention!
Recognizing exceptional Camp Invention alumni
The Mighty Minds contest has offered exciting opportunities for children who have participated in Camp Invention. Past grand prize winners have each received an all-expenses-paid trip to Washington, D.C. for our National Inventors Hall of Fame Induction Event.
The following sponsors help make Camp Invention possible:
MiSTEM Advisory Council Grant Sec. 99s(3) of the State School Aid Act

The Fossum Family Endowment

The Amos E. Joel Young Inventors Endowment

The Al and Helen Free Foundation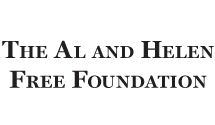 Become a part of something big
Help us make STEM education programs accessible to all children.