Take Your Innovation to the Next Level With Our Collegiate Inventors Competition
Each year, the nation's most creative college students come together to compete while networking with world-class inventors.
What is the Collegiate Inventors Competition?
Who: Undergraduate and graduate students who are enrolled either part-time or full-time at a U.S. college or university.
What: A unique invention contest offering opportunities to advance your invention through national exposure, expert mentorship, networking and more.
Where: Finalists receive an all-expenses-paid trip to Washington, D.C., to attend our event at the United States Patent and Trademark Office (USPTO) headquarters in Alexandria, Virginia.
When: Each year, applications must be submitted by June. Finalists are selected in August and the event takes place in October. Our next competition will be held in 2024.
Why: Through this a one-of-a-kind experience, you'll connect with other collegiate inventors, meet National Inventors Hall of Fame® Inductees and patent examiners who will serve as Judges, and compete to win cash prizes* and patent acceleration! 
Entries for the 2023 Collegiate Inventors Competition are closed. Check back next spring for information on the 2024 competition.
Event Timeline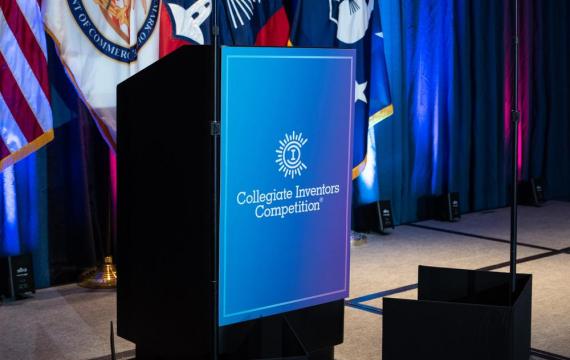 Entering the Competition
Complete our online application to tell us about yourself and your invention.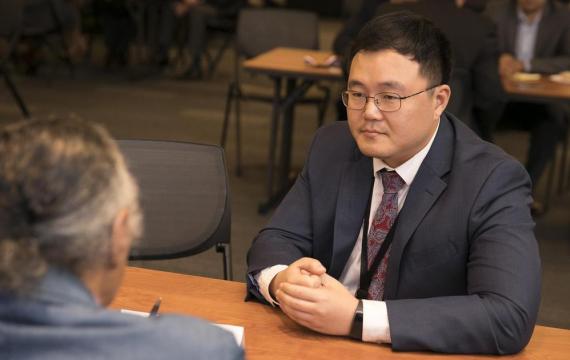 Round One Judging
Your Collegiate Inventors Competition® (CIC) entry will be reviewed by our initial judging panel.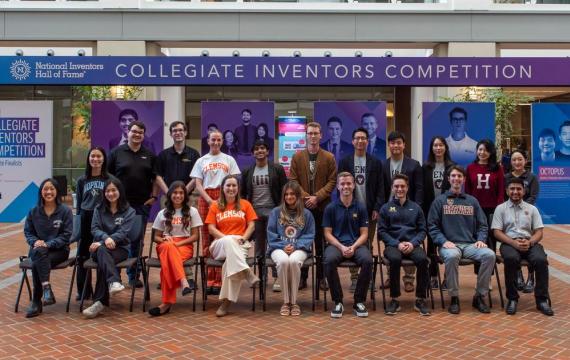 Finalists Selected
If you are selected as a Finalist, you will be notified two months ahead of our CIC event and will be provided with details about your next steps, including requirements for Round Two Judging.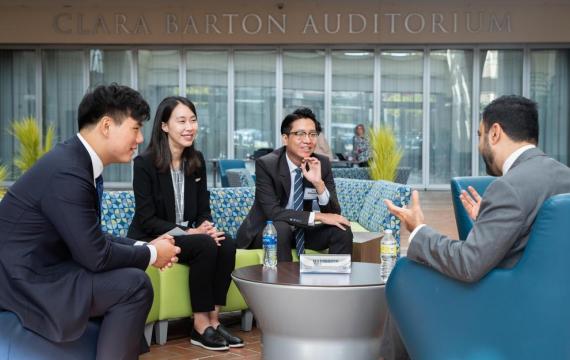 Preparation Time
As a Finalist, you'll want to start prepping for your trip and your presentation at our CIC event in Washington, D.C. Our team will reach out to help you prepare!
We also will interview you and create promotional materials including a video to help spread the word about your involvement in CIC.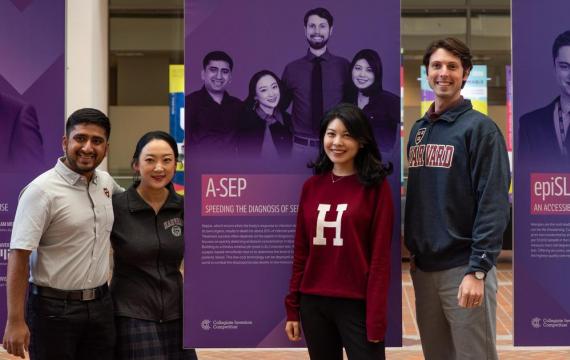 CIC Event Day One: Arrival and Round Two Judging
When you arrive in Washington, D.C., on the first day of CIC, you'll give your final presentation to the competition Judges, including National Inventors Hall of Fame Inductees and USPTO representatives. After all of the Finalists have presented their inventions, the Judges will hold their final deliberations.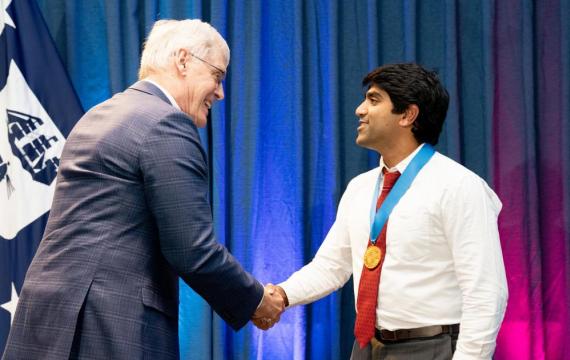 CIC Event Day Two: Winners Announced
It's time for the main event! You'll get to mingle with world-changing inventors and your fellow Finalists during our networking reception at the USPTO headquarters.
We'll announce our Undergraduate, Graduate and People's Choice Award Winners at an awards luncheon. Finally, you'll have the opportunity to gain valuable insight as you meet with intellectual property experts.
CIC Event Day One: Arrival and Round Two Judging
CIC Event Day Two: Winners Announced
Congratulations 2023 CIC Winners!
Graduate Winner: Cerebral Aneurysm Test (CAT-7)
Graduate Runner-Up: Entropic Biosciences Inc.
Undergraduate Winner: FADpad
Undergraduate Runner-Up: Bronchosleeve
Arrow Electronics People's Choice Award Winner: NucleoTide
* Please note that if a Finalist is awarded competition winnings of $600 or more, a 1099 form will be issued to them at the conclusion of the tax year. The winning Finalist must be legally eligible to provide a completed and signed W-9 prior to payout. Please see the following link for details and instructions: https://www.irs.gov/forms-pubs/about-form-w-9
Get Collegiate Inventors Competition news and updates