Fun STEM Education Programs for Children of All Ages
Join us in our mission to spark lifelong learning and discovery.
National Inventors Hall of Fame® education programs lead children to become confident, creative problem solvers. In communities across the country, qualified local educators lead hands-on STEM (science, technology, engineering and mathematics) experiences in inclusive, collaborative environments, promoting friendship, resilience and an innovative mindset.
| | | | | | |
| --- | --- | --- | --- | --- | --- |
| | Learn More | Learn More | Learn More | Learn More | Learn More |
| | STEM summer camp | Leadership program | Volunteer program | At-home summer camp | Afterschool program |
| Overview | Promotes hands-on, open-ended exploration and problem solving | Provides opportunities to mentor younger children at Camp Invention | Offers rewarding mentorship experiences at Camp Invention | Delivers hands-on challenges and offers virtual collaboration | Explores a range of subjects and boosts critical thinking |
| Grades | K-6 | 7-9 | High school and college | K-6 | 1-6 |
| Where | In person | In person | In person | Virtual | In person |
| When | Summer | Summer | Summer | Summer | Intersession |
See Fun and Learning in Action at Our STEM Programs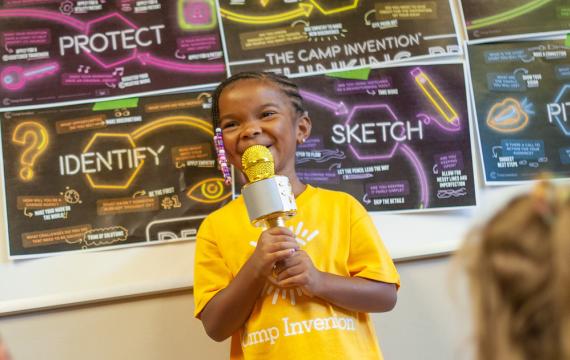 Confidence
This young Camp Invention camper overcame their nervousness to share their idea for an invention in front of the group. Presenting their big ideas to friends in a supportive, encouraging environment like those found in our programs helps children gain confidence.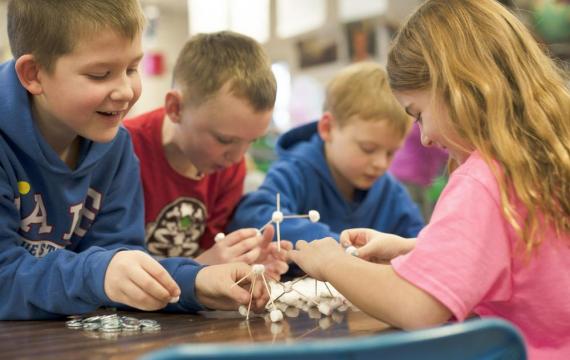 Collaboration
Elementary schoolers worked together to build towers out of different materials during a Club Invention experience. During all our programs, children enjoy collaborating with friends to develop creative solutions that can be applied to real-world problems.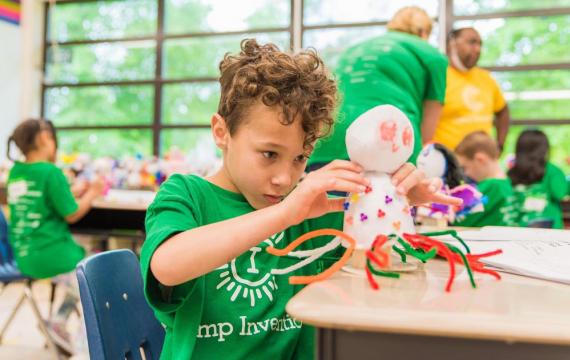 Intellectual Property
Children who attend National Inventors Hall of Fame programs learn not only that their ideas have value, but also how to protect those ideas. During one Camp Invention experience, this camper customized their own animatronic stuffie before learning how to protect their unique design with the power of intellectual property.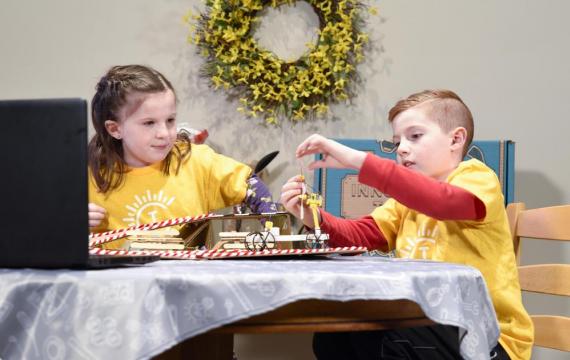 Creative Problem Solving
Two siblings who attended Camp Invention Connect used their imaginations to design a way to help a model car move more quickly. Throughout each of our programs, children build and test invention prototypes as they take on a variety of creative problem-solving challenges.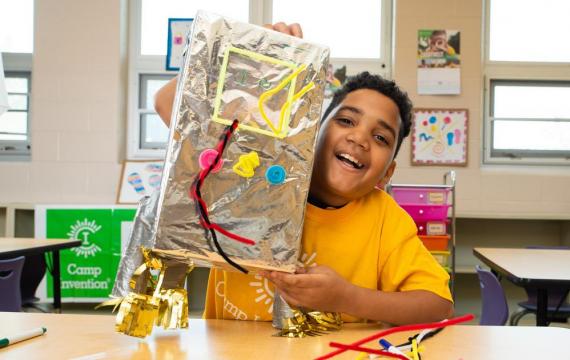 Innovation
This young innovator created their own Spacepack to prepare for space travel and exploration during one summer's Camp Invention experience. When children attend National Inventors Hall of Fame programs, they learn how to turn their innovative ideas into reality using creative materials.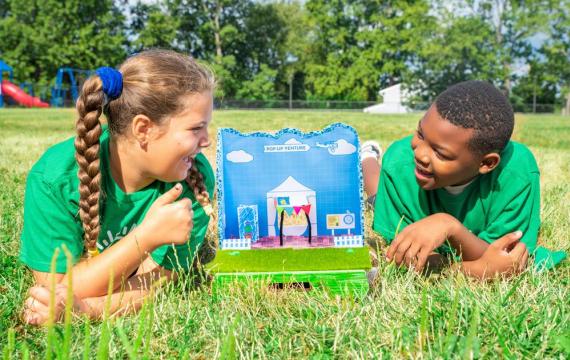 Entrepreneurship
Two elementary schoolers proudly showed off the mini pop-up business they designed at Camp Invention. As they attend our programs, children build key entrepreneurship skills that will prepare them for future successes.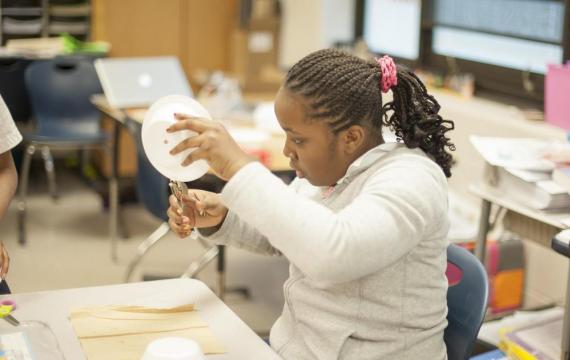 Persistence
When their invention didn't work as planned during Club Invention, this young inventor didn't give up — they decided to try a different design. As they create and test solutions to real-world problems, children who attend our programs learn how to overcome obstacles, recover from setbacks and practice persistence.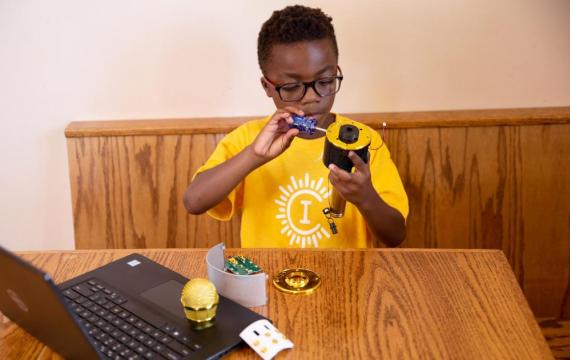 STEM
While attending Camp Invention Connect from home, this camper took apart an electronic microphone to learn how it worked. This type of hands-on, open-ended STEM exploration is found in all National Inventors Hall of Fame programs, bringing learning to life for curious children.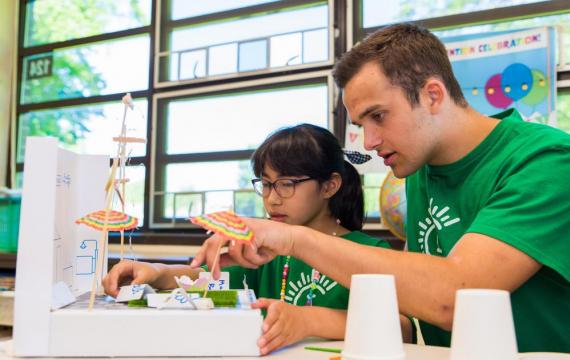 Design Thinking
During Camp Invention, this camper brainstormed ways to meet the needs of their invention's intended users with the help of a Leadership Intern. When children attend our programs, experiences like this prompt them to apply design thinking to their big ideas and consider how they might improve their designs to help others.
Find Out What Families Are Saying
"My kiddos love every single second of this camp – they come home all smiles and telling me about everything that they do (which is not the norm during the school year LOL)."

"[My daughter] went to visit Purdue University today to see the polytechnic school. I shed some tears today thinking about her experiences at Camp Invention. You all introduced her to another world she may have never even visited."

"Camp Invention had a huge impact on both my children who attended! They came home with very detailed explanations of 'symbiosis' and how they built things. It was amazing! It was a wonderful experience from beginning to end."

"Long ago I participated in Camp Invention. It taught me crucial social skills, but more importantly it gave me critical thinking skills that I'd have struggled to gain otherwise. Please keep providing amazing experiences for kids, it changes lives!"

"We have two kids in camp (9 and 7), and they talk about what they did in camp nonstop when they get home and build things together. They are always showing each other things that can be 'repurposed' for something else and building gadgets together."

"The staff was so welcoming and inclusive, and my son made so many friends at camp. He loved the whole experience and was so proud to bring home and show off everything he made. I would highly recommend this program to everyone."

"[My daughter] has continued to explore, make crafting ideas and invent all summer. We often find her making things, sometimes things she has seen online, and often things she invents herself. She's also developing more interest in science and history."

"My son is quite the engineer and inventor. When a neighbor raved about this camp, my husband and I immediately signed him up. We appreciate how kind, thoughtful, fun and safe the teachers all kept the entire camp."

"[My daughter] absolutely loves going to Camp Invention. She asked all year round 'When is it time for Camp Invention?' The only complaint she has is it is not long enough; one week isn't enough for her. She wishes it would never end."

"Camp Invention was an amazing experience for my son! He loved the hands-on learning opportunities and enjoyed getting to work with friends and caring educators. He was excited to get up and go every morning, and he told us all about his creations."

"My kiddo LOVES Camp Invention! He is extremely smart and creative but struggles in school due to his disability. He just finished his second summer at Camp Invention and had an amazing time without one issue."

"My funny, sweet son on the autism spectrum with other challenges declares Camp Invention to be the only camp he wants to go to every year."
Check Out Our Blog for Inspiring Ideas and Activities
Become a part of something big
Help us make STEM education programs accessible to all children.