Camp Invention Connect
An At-Home Summer Camp Offering Real Hands-On Fun for Grades K-6
What is Camp Invention Connect?
The most inspiring online summer camp available anywhere!
Who: Curious kids entering grades K-6! This is the perfect program for parents and caregivers who are on the go, working from home, far from a local camp, and kids who thrive in at-home, self-paced settings.

What: An opportunity to safely explore hands-on STEM fun at your own pace

Where: Anywhere you are

When: Camp is offered June 24-28, July 8-12 or July 22-26, and you can choose the week that works best for you

Why: Because when kids have this much fun creating, they won't even realize how much they're learning!

How much: $270 for a week of action-packed virtual camp sessions and all the materials your child will need
Here's how our camp works:
Here's what an action-packed day looks like with Camp Invention Connect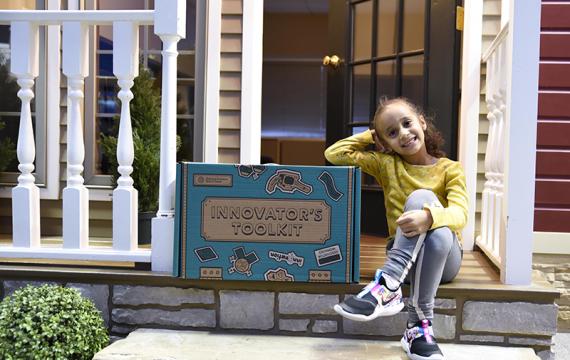 Get Excited for Your Program
The Innovator's Toolkit — packed with everything your camper needs — will be sent straight to your home ahead of the program start date, so you'll be set for a week of hands-on fun and exploration!
When your package arrives, your camper can check out all their materials and set up their own space for creativity with their Innovator Workshop, complete with a Toolbelt and Maker Mat.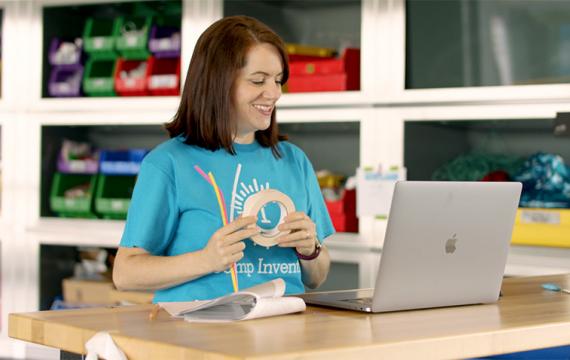 Daily Kickoff (9 a.m.)
Your child will join an educator — their Camp Invention Connect Coach — and fellow campers to start each day with a live online session that includes icebreakers, instruction and opportunities to collaborate.
If your camper can't join live, don't worry — you will have access to videos that go through each exciting challenge, step by step.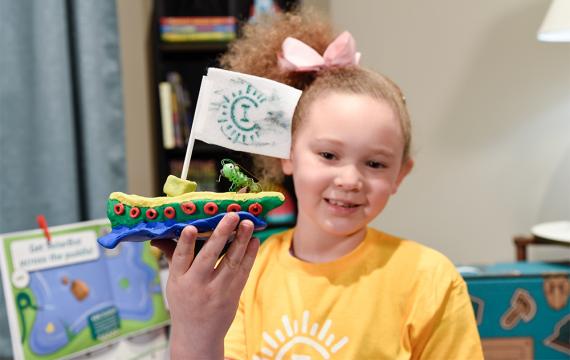 Create and Invent (11 a.m.)
Following a quick break, kids get back together online to make, create and invent with their Coach and fellow campers.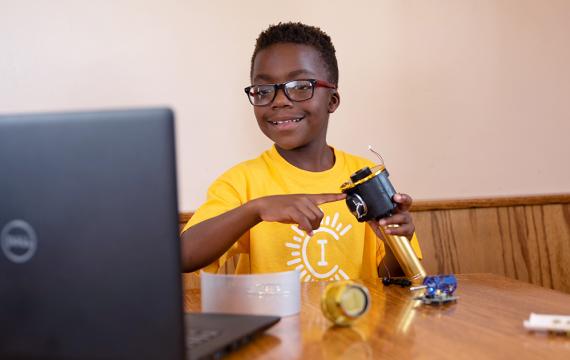 Afternoon Hangout (1 p.m.)
After taking a break for lunch, kids join their Coach and fellow campers to socialize, build friendships and gear up for the rest of the day's hands-on fun.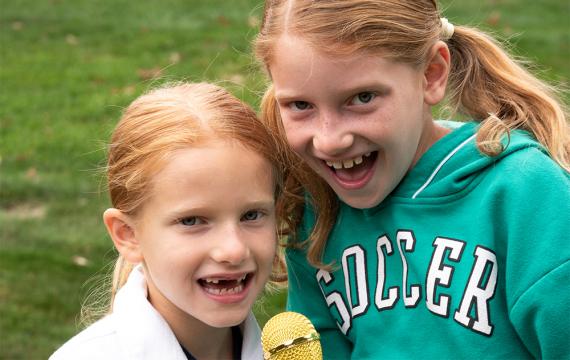 Unplug and Get Outdoors
Hands-on STEM exploration continues as kids enjoy screen-free time and get outdoors with high-energy challenges.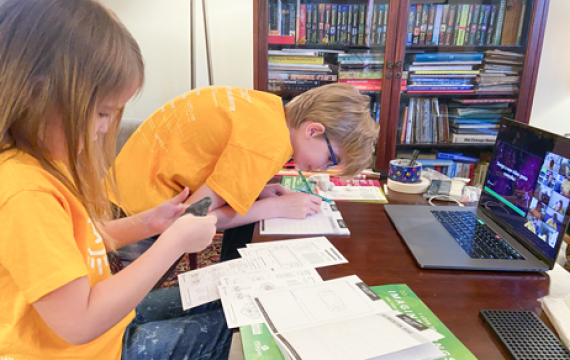 Collaborate and Share (2 p.m.)
Each afternoon, campers regroup with their Coach online to complete their final challenge and proudly share their projects and inventions.
Get Excited for Your Program
Create and Invent (11 a.m.)
Afternoon Hangout (1 p.m.)
Collaborate and Share (2 p.m.)
Sign Up Today!
When you sign up for a specific week, this tells us when to ship your Innovator's Toolkit and ensures that a spot will be saved for you in our virtual sessions. A schedule and meeting links for the optional live sessions will be provided by your Camp Invention Connect Coach the week before your start date.
Delivering Imagination and Fun to Your Doorstep
With a set of four themed kits providing tons of materials, our 2024 program, Recharge, offers hours of hands-on fun! Each kit brings a unique set of challenges inspired by world-changing inventors, and certified educator Coaches help kids make real connections through instruction, teamwork and outdoor play. It all adds up to a one-of-a-kind experience that's sure to get kids thinking, moving and creating!
Open Mic™
As campers take apart and rebuild their very own wireless microphone, they amplify their big ideas to become creative entrepreneurs. They discover sound waves in action, hear from great inventors and make a powerful pitch to promote their own amazing invention.
Duck Chuck™
In this fun physics adventure, kids create and test a device to launch rubber ducks across the world. After earning "quack coins" to buy materials to build their devices, they send their ducks to visit famous landmarks, testing fascinating concepts like trajectory and velocity.
SolarBot™
Kids make and adopt their own solar-powered, robotic crickets, and they jump into experimenting with circuits and energy. Using empathy to consider the lives of real insects, they create custom habitats — including a fun-filled cricket playground — for their awesome bots.
Road Rally™
Campers learn how to adapt as they design morphing vehicles to race across land and add prototype elements for moving through air and water. With inspiration from cool creatures including a "plantimal," they modify their vehicles to submerge, soar or sprint in a Super Road Rally.
Why Choose Camp Invention Connect?
For more than 30 years, Camp Invention® has been inspiring confidence and creativity through fun, hands-on STEM experiences. Now, young innovators can bring the excitement of this STEM summer program home with Camp Invention Connect.
Images slider with 5 slides