STEM Professional Development to Empower Teachers and Inspire Students
Customized workshops for more effective STEM teachers
National Inventors Hall of Fame® (NIHF) professional development workshops address all your inquiry-based and project-based learning (PBL) needs by providing strategies and solutions that will empower your teachers and support their success.
Each interactive hands-on workshop is designed to foster the I Can Invent® Mindset while answering questions from what to do with a makerspace to how to create a STEM-focused afterschool program.
Whether you implement professional development for teachers in the summer or through the school year, we'll prepare your educators to build high levels of student engagement and achievement in the classroom.
Foster an I Can Invent Mindset in educators
Flexible Programming
Implement virtual and in-person workshops that are built for 5 to 25 participants and customized to accommodate your district's unique plans, in summer or through the school year.
Better Prepared Educators
Provide educators with fundamental skills and techniques to encourage innovative, creative thinking and the confidence to facilitate student-centered learning experiences.
Hands-On Materials and Experiences
Receive materials for each participant to engage in a workshop that provides strategies and best practices to integrate STEM and hands-on learning concepts into the classroom. 
Discover Our STEM Professional Development Workshops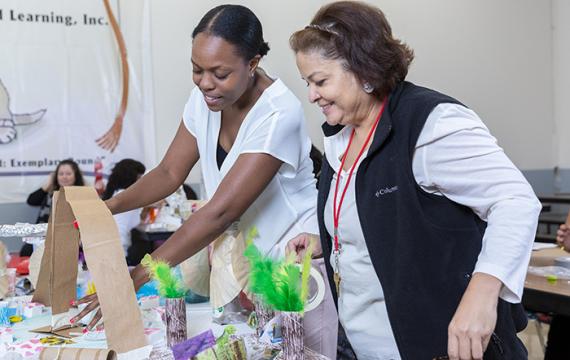 Instilling an I Can Invent Mindset
Introduce strategies for open-ended learning through invention education with this three-hour workshop. In addition to promoting creativity and student-led learning through divergent thinking, collaboration and play, this workshop can be customized to focus on your educators' priorities, such as:
Meeting state standards while fostering the I Can Invent Mindset
Supporting life skills through invention education
Promoting the value of intellectual property (IP) literacy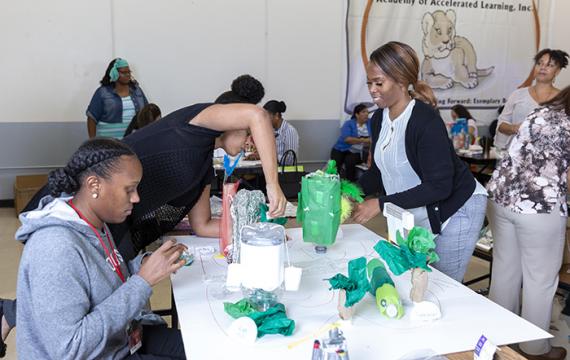 Instilling an I Can Invent Mindset Part 2
Take invention education strategies and skills to the next level with this three-hour workshop. Further equip your educators to strengthen their techniques, provide immersive experiences and empower students in any subject through hands-on opportunities to practice:
Integrating Next Generation Science Standards into all content areas
Engaging in discussion and reflection on best practices for exploring STEAM concepts
Applying NIHF's create, test and recreate approach to learning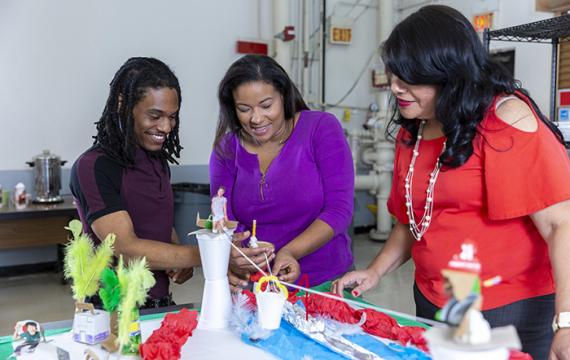 Innovative Educator Institute
Current NIHF education program partners can transform learning with innovative methods in this two-hour workshop. Focusing on collaboration, self-directed learning and persistence, participants learn skills that can be transferred from NIHF programs into their classrooms as they engage in opportunities for:
Sharing and reflecting on valuable, hands-on learning experiences
Collaborating on strategies that will instill the I Can Invent Mindset
Exploring transference methods that build students' confidence, creativity and problem-solving skills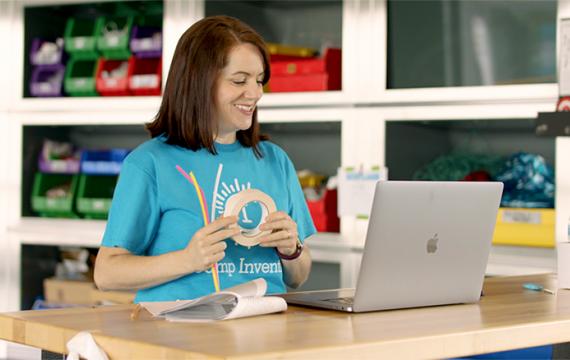 NIHF Program Implementation
Choose this two-hour workshop for implementation strategies that will make your NIHF education program a success. Participants will be introduced to the I Can Invent Mindset and benefit from tools, training and transferable strategies, such as:
Using program resources including curricula, scheduling and pacing guides
Creating an immersive environment that empowers students to solve real-world challenges
Applying inquiry-based strategies for engaging and rewarding learning experiences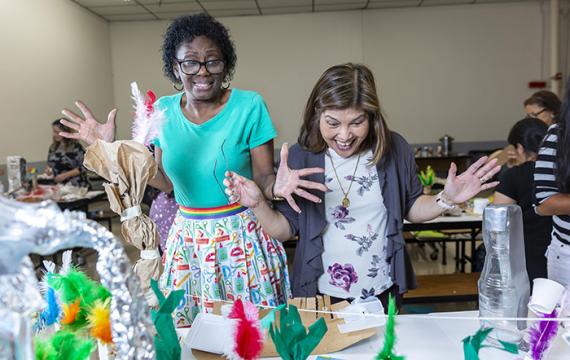 Instilling an I Can Invent Mindset and NIHF Program Implementation
This four-hour workshop combines program implementation support with strategies for developing the I Can Invent Mindset. Participating educators will build confidence, hands-on experience and transferable skills as they engage in:
Using provided resources and inquiry-based methods for a successful NIHF education program
Exploring best practices for integrating STEAM concepts in the classroom
Encouraging students' creativity, divergent thinking and persistence through invention education techniques
Learn what educators are saying about our workshops
"This was the most engaging workshop I've ever been to. I can't wait to try these with my kids. So much fun!"

"I loved converting from "teacher" to "learners". What an eye-opener!"

"There were varied experiences that led to amazing discovery, collaboration and inspiration. I can't wait to teach the children what I have learned."

"This was my first STEM-based professional development experience and I found the whole day very effective!"

"I found the hands on learning very effective! Reading about it & listening is one thing, but DOING is better!"

"I liked getting new ideas for makerspace type activities and set up."

"The hands-on tasks made the concepts real and easy to see how to take the information back to my school site."

"This PD was so well presented! I especially appreciated the videos and step-by-step directions."
Have Questions?
For more information on how to bring our professional development program to your district contact us at [email protected] or 800-968-4332.
Schedule a professional development workshop