What is Camp Invention?
What: Camp Invention® is designed to help students create, collaborate and gain confidence through building prototypes and solving real-world problems. This nationally accredited, standards-aligned STEM summer camp program is informed by the insights of world-changing inventors and has inspired children nationwide for more than 30 years. A new, tested program is developed by our team of educators each year and is differentiated to meet the needs of primary and intermediate students. The program includes four unique modules with 32.5 curriculum hours*.
Who: Students in grades K-6
Where: Camp Invention is hosted locally and led by local educators. If a district building is not available, the program can be hosted in a community building, library or other local facility.
How: Materials are shipped in classroom sets from our in-house warehouse directly to your program location
**Camp can be implemented using a parent-paid model or purchased as either a full program or individual modules. It also can run as a unique, standalone summer experience or as the perfect complement to a larger summer learning program.
Features and Benefits of Partnering With Us
Engaging Curriculum
Designed for hands-on engagement and open-ended exploration, Camp Invention encourages children's natural curiosity and creativity. Our 20-month curriculum development process ensures students enjoy a quality experience.
Funding Qualified
Camp Invention qualifies for ARP/ESSER, Title I-IV, 21st Century Community Learning Centers and Migrant Education funding, as well as state and local district funding resources. Our team works with you to both identify and apply for funding opportunities.
Stress-Free Implementation
The National Inventors Hall of Fame® provides all materials and resources needed for hassle-free implementation, including dedicated customer support throughout the program.
Evidence Based
Independent evaluations show that one week of Camp Invention can produce short- and long-term improvements in creativity, interest in STEM subjects, collaboration and problem-solving skills. Learn more about our impact.
What is Included in Camp Invention?
Program Preparation
Program Team Member orientation, promotional tools including flyers, posters, social media and digital content, and exceptional guidance and one-on-one coaching provided by a dedicated National Inventors Hall of Fame support team.
Implementation Support
Materials, step-by-step curriculum and instructor guide for 32.5 hours of programming, daily schedules and prerecorded videos to supplement the curriculum, a central registration system, and Camp Invention T-shirts for participants and Program Team Members.
Explore Our 2024 Program: Illuminate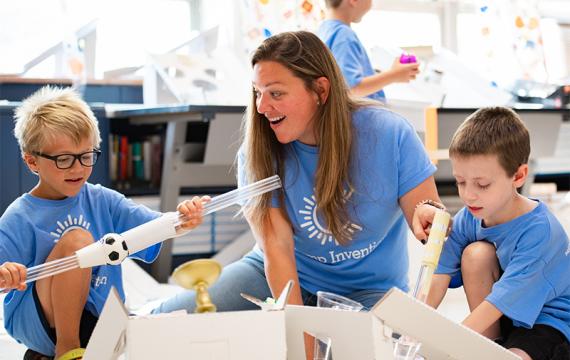 In the Game™
Children explore physics and materials science as they create their own light-up game and sports ball, all while discovering the importance of intentional design!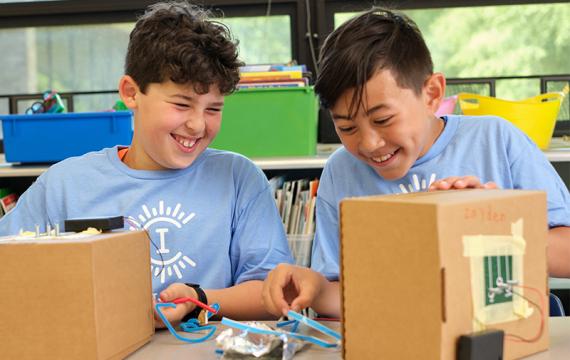 Let's Glow™
Children explore optics, molecular biology and genetics, experiment with glowing materials and engineer a double-sided circuit board to illuminate their one-of-a-kind Glow Box.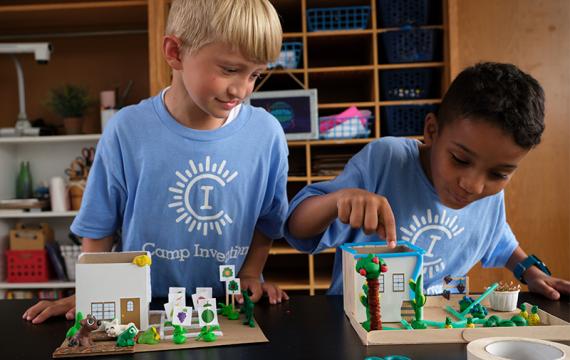 Operation: HydroDrop™
With the help of a robotic lab-on-wheels, children gather data, tap into ingenuity and use creative problem solving to take on water challenges around the world.
Prototyping Studio™
Children step into Prototyping Studio, where they explore the innovation spaces of Our Nation's Greatest Innovators™, customize a toolbox and transform their ideas into unique inventions.
What Educators Are Saying About Our Education Programs
"I love that everything was included in the teacher's guide. I knew I could reference that at any time. I also liked that the kids not only explored, but they had to present their ideas."

"As a director, it's fun to get to see kids of all ages really exploring their ideas, and having the opportunity to draw and build and try to create prototypes without the restrictions of state testing, etc."

"I appreciate the quality curriculum and well-organized materials. Campers have fun while learning! I am a science teacher, and this promotes scientific and engineering processes in an engaging and fun way. "

"The activities and the skills that they learn at Camp Invention really transfer to the outside world. They're encouraged to come up with ideas, brainstorm, hypothesize and make mistakes — it's all part of the learning process! "

"Interaction with kids who want to learn is always the best part of teaching. Being able to talk with the kids as they thought through each challenge was easily the best part of camp."

"I love seeing the innovative and inventive creations campers produce and genuinely enjoy watching the older students step in as leaders and teachers throughout the week of camp. "

"The curriculum is easy to follow, modify (if needed), and teach. It is also very helpful that the supplies for each module are provided so setup is quick and simple. Great hands-on learning program for students!"

"The directions were simple enough for my first-graders to follow along as well as challenging enough to keep my fifth-graders interested. This was extremely meaningful to me because I loved being able to see every student succeed in their own way."

"I wish Camp Invention would teach every curricula provider how to pack and organize materials! They do it right."

"Thanks for a great experience. We felt it had a very positive impact on campers and we, as staff, had a great time too! The resources and support were outstanding!"

"Organization, presentation and ease of use of the program is phenomenal. The kids really get a wonderful variety and exposure to STEM."

"I was very impressed with the quality of resource guides, videos, materials, packaging, etc. High quality, engaging, very impressive!"

"The organization and ease of implementation was paramount. For someone who has never done Camp Invention it was easy to figure out and implement with fidelity."

"I love how organized and hands on each module is. Everything is laid out nicely for both students and instructors!"

"I love how engaging it is every year, the activities are fun and stimulating, the kids are excited and I enjoy it every summer because it's easy!"

"The materials were of good quality, well labeled, and well organized. The modules included enough variety that kids with many different interests were engaged. I really liked the emphasis on problem solving using real-world challenges."

"There is so much wonderful support before and during the program. I always feel like I'm giving the students the best opportunity to engage in STEM thinking. The quality of curriculum is outstanding and engaging."
We want to partner with more educators just like you!
References
Donald J. Treffinger, Camp Invention Evaluation. Sarasota (FL): Center for Creative Learning (2001); Bureau of Research Training and Services in the College and Graduate School of Education, Health and Human Services at Kent State University (2007); A. Scarisbrick-Hauser, B. Hauser, 2010 Camp Invention Program Evaluation (2010); ChangeMaker Consulting, LLC, Camp Invention Evaluation (2014); J. Falk, Camp Invention Evaluation Report. Institute for Learning Innovation (2018).
 
A. Bell, R. Chetty, X. Jaravel, N. Petkova, and J. Van Reenen, Who Becomes an Inventor in America? The Importance of Exposure to Innovation. Opportunity Insights (2017).
 
Bring Camp Invention to Your School