A Behind-the-Scenes Look at This Year's Camp Invention Programming
This year, the National Inventors Hall of Fame® (NIHF) has adapted and expanded Camp Invention®, bringing at-home STEM exploration to children nationwide through Camp Invention Connect™. While COVID-19 has made it difficult to see the impact of Camp Invention in person at a program near you, we invite you to join us on a "tour" of how we made real, hands-on fun possible this summer.
Bringing Camp Invention to Children Everywhere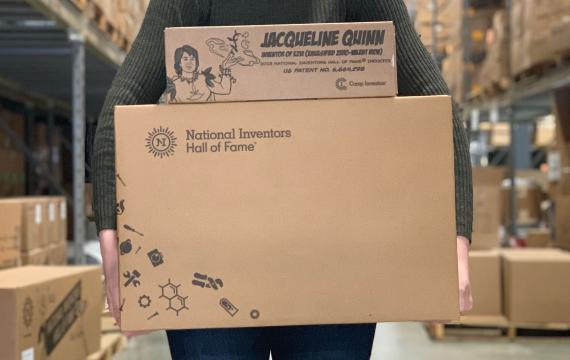 As most in-person summer learning programs were cancelled in response to COVID-19, it became clear that, true to our mission, NIHF needed to pivot in order to create an alternative to the in-person Camp Invention program.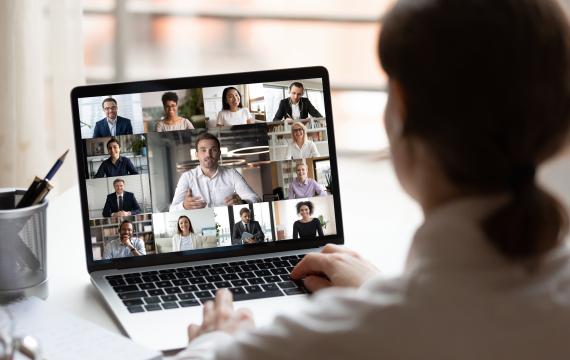 We began to conduct research and focus groups with educators and parents, and through these conversations, we learned that more than ever before, children needed experiences that would prepare them to overcome the achievement and social-emotional learning gaps ahead.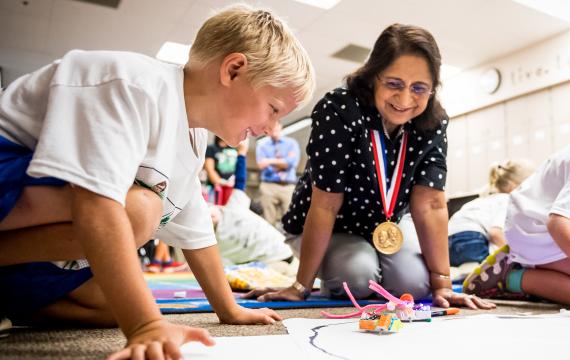 For the past 30 years, NIHF's education team has developed one-of-a-kind curricula inspired by the world's greatest innovators – NIHF Inductees. If there has ever been a time when we needed to think like innovators and quickly adapt to creatively solve problems, this was it!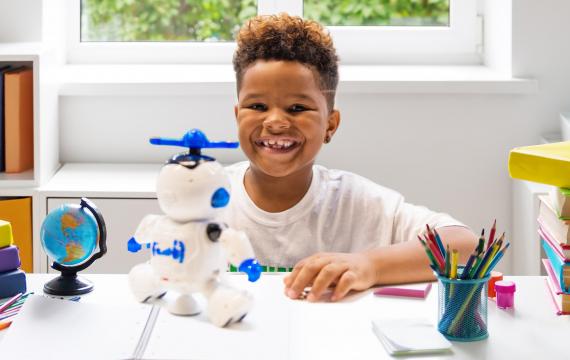 We listened to feedback from parents, educators and experts to develop Camp Invention Connect – a child-led, hands-on STEM learning experience. This at-home program was designed to work with or without access to technology or the internet, ensuring all children had the opportunity to participate.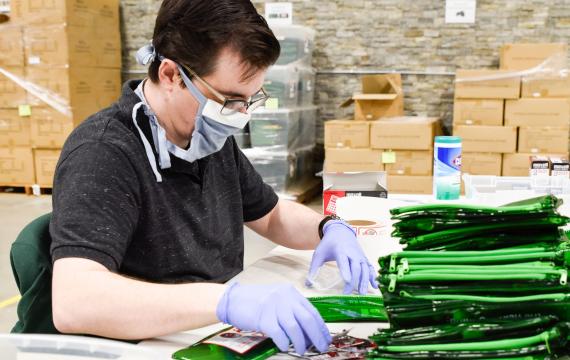 The impact of COVID-19 also led us to rethink our distribution model and reimagine the potential of our 75,000-square-foot warehouse. Traditionally, our warehouse has packaged and shipped all Camp Invention materials and curricula in bulk to our partnering schools and districts across the country. For 2020, that approach rapidly shifted.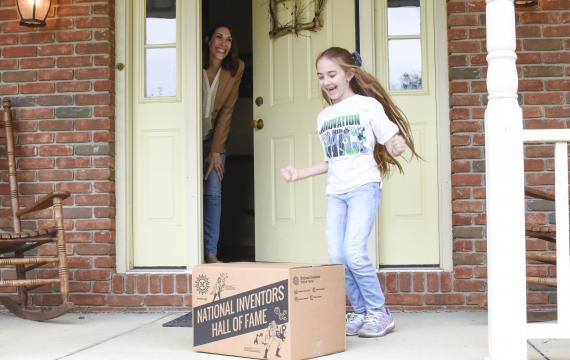 To ensure quality hands-on STEM programming could still reach children and educators no matter where they were, NIHF transformed our warehouse model to ship individual kits directly to families' homes, more than doubling our warehouse shipment volume. Thanks to our many partners, our 2020 program, Elevate, came to life in new and exciting ways.
Children had the opportunity to work hands on while collaborating with fellow campers. Educators who served as in-person Instructors or virtual Coaches benefitted from embedded professional development opportunities, and our post-program reporting discovered that 57% more teachers were comfortable with virtual instruction after their Camp Invention experience.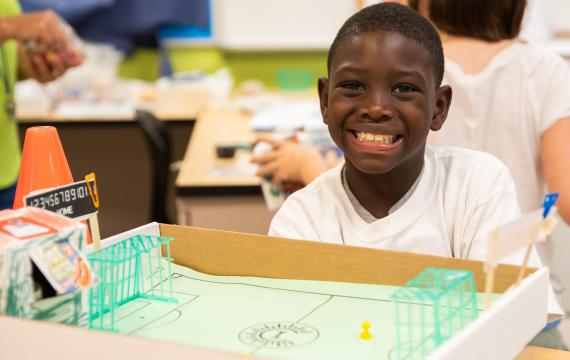 We have continued to walk our talk, innovating in collaboration with our partners to ensure all children and educators have the opportunity to learn in any setting.
Hear from the National Inventors Hall of Fame Team
Michael J. Oister, CEO, NIHF
"I am privileged to lead a company dedicated to continuous improvement. Inspired by our revolutionary Hall of Famers, icons who rejected the status quo and believed in something greater, we too believe the only limits that exist are those we place on ourselves. We remain committed to overcoming challenges, delivering unique experiences, and encouraging students and teachers to overcome obstacles like those we face today."
Britt Magneson, VP, New Business Development, NIHF
"Our district partners, with whom we've had a relationship for more than 10 years, found themselves in a place they had never been before due to COVID-19. We listened to our partners and responded to their needs, figuring out a way to continue to lead with learning. We have been cognizant of equity and are now able, because of direct shipping and contact with parents and children in their homes, to help as much as we can to level the playing field."
Jayme Cellitioci, Creativity and Innovation Strategist, NIHF
"Whether a child is able to follow along with a Camp Invention Connect activity guide at home for a hands-on experience, or join a virtual session, or be part of a traditional Camp Invention site, we want to make sure they build skills like perseverance and persistence, and that they use creative problem solving in ways that will allow them to make their mark on the world in the future. We are committed every day to making sure that all children know that every child can invent."
Hands-On Learning in Any Setting
Available either at home or in person, our 2020 program sparked excitement and inspiration as children engaged in hands-on challenges, discovered world-changing inventors, and built their confidence as creators and innovators. Here's a little more about the modules and activities children enjoyed this summer:
Camp Invention Flight Lab™
Imaginations soared as children learned about flight with paper planes, gliders, rockets, heliballs and hand-copters. They built a cityscape out of upcycled materials, navigated planes through a storm and took apart a robot they could keep at the end of the program.
Design Thinking Project™
Children learned the value of their creativity as they brought their biggest ideas to life. To become successful entrepreneurs, they created sketches, built prototypes, designed logos and found out how to market their products while protecting their intellectual property.
Rescue Squad™
Using teamwork and problem-solving skills, children protected the Earth's ecosystems. Inspiring activities included competing in zipline races, exploring energy conservation, eliminating pollution and helping wildlife in habitats across the country.
Camp Invention Champions™
As they discovered the great inventors behind their favorite sports, children applied their own ingenuity and design thinking. They traded inventor playing cards, created and played their own high-energy hover-ball games, and designed and built the ultimate sports complex.
What parents and educators are saying about Camp Invention
"What I love about Camp Invention Connect is that children have all of the materials they need — this made all the difference. While my students could add other things to their inventions, we had a baseline where everyone could start at the same level."

Camp Invention Connect Coach

"It was an honor to facilitate student learning with such high-quality materials and lessons. I was provided everything I needed to successfully execute this online experience. The time was designed to engage students and develop innovative thinking."

Camp Invention Connect Coach

"The materials were engaging and fun and at the perfect level for my child to feel confident to work independently. I am impressed with how well this program allowed my child to express her creativity! This is the happiest she has been in weeks!"

Camp Invention Connect Parent

"My daughter and son loved completing Camp Invention Connect and engaging with other children online. It was great to see the innovative mindset this experience has cultivated. Weeks later, they are still busy building and bringing their ideas to life!"

Camp Invention Connect Parent
National Individual Donors
Camp Invention Parents' Donations
Iver and Nancy Anderson
Bloom Foundation, in loving memory of Leonard I. Bloom, Esq.
Shawn Boger
Harendra S. Gandhi Foundation
Kristina M. Johnson
Marshall and Annie Jones
David Walt and Michele May
Regional Sponsors
Akron Community Foundation
Barberton Community Foundation
The Belden Brick Company Charitable Trust Fund
Glenn R. and Alice V. Boggess Memorial Foundation
Bridgestone Americas Akron Trust Fund
Lisle M. Buckingham Endowment Fund at Akron Community Foundation
The Henry V. and Frances W. Christenson Foundation
Cleveland Intellectual Property Law Association
Community Foundation of Lorain County
The George H. Deuble Foundation
Albert W. and Edith V. Flowers Charitable Foundation
The Harry K. and Emma R. Fox Charitable Foundation
Greater Alliance Foundation
The Huntington-Akron Foundation
Betty V. and John M. Jacobson Foundation
Martha Holden Jennings Foundation
Charles E. Loehr Charitable Trust
The Lubrizol Foundation
The Sisler McFawn Foundation
The Nord Family Foundation
The Reinberger Foundation
Romich Family Fund, a component fund of the Wayne County Community Foundation
Lloyd L. and Louise K. Smith Foundation
Synthomer Foundation
The Thomases Family Endowment of the Youngstown Area Jewish Federation
United Way of Summit and Medina
United Way of Wayne and Holmes Counties
The Raymond John Wean Foundation
The Welty Family Foundation
Wooster Hydrostatics
The Youngstown Foundation
American Intellectual Property Law Association
Community Foundation for Northern Virginia
George and Lissa Elliott
EQT Foundation
Finnegan, Henderson, Farabow, Garrett & Dunner, LLP
Richard E. Gasser Fund of the Lehigh Valley Community Foundation
Richard & Caroline T. Gwathmey Memorial Trust, Bank of America, N.A., Trustee
IEEE - Northern Virginia Section
Maryland Space Business Roundtable
Micron Foundation
Northrop Grumman Foundation
TE Connectivity
American Electric Power Foundation
Coshocton Foundation -- Joan Hartley Gross Memorial Fund
Coshocton Rotary Club
Dow Corning Foundation
Ford Motor Company Fund
The Greater Cincinnati Foundation
Honda of America Mfg., Inc.
International Paper
Martha Holden Jennings Foundation
LG&E and KU Foundation Inc.
The Lindorf Family Foundation
McWane Ductile
Miami County Foundation
The Montgomery Foundation
Edwin F. Mulligan Endowed Fund
Oxford Community Foundation
Pierce Family Fund of the Coshocton Foundation
Pilot Company
The Shelby Foundation
Simpson Family Donor Advised Fund of the Coshocton Foundation
Toyota Motor Manufacturing WV
The Troy Foundation
Wiley Companies/Wiley's Finest
Ralph D. & Judy P. Wisenburg Fund
The Youth Philanthropy Committee of the Hamilton Community Foundation
​​​​​​Boehringer Ingelheim Cares Foundation
The Fossum Family Endowment
Kronos Incorporated
The Magnuson Center for Entrepreneurship at Dartmouth College
Katharine Matthies Foundation, Bank of America, N.A., Trustee
The Frederick McDonald Trust, Bank of America, N.A., Trustee
NAVAIR - Lakehurst
Salem Five Charitable Foundation
Unum
Vanderheiden Family Foundation
Alliant Energy Foundation, Inc.
Bayer USA Foundation
Blueprint4SummerSTL
Brandon Community Foundation of the Sioux Falls Area Community Foundation
Dow Corning Foundation
Duke Energy Foundation – Indiana
Ford Motor Company Fund
The Gerber Foundation
Hardenbergh Foundation
Hemlock Semiconductor Community and Regional Empowerment (Care) Fund
Honda Manufacturing of Indiana, LLC
Kohler Foundation, Inc.
Kosciusko County Community Foundation
LyondellBasell
R.J. McElroy Trust
Populous
Sioux Valley Energy
TE Connectivity
Vectren Foundation, Inc.
We Energies Foundation
CHS McPherson Refinery Inc.
The Clorox Company
Elizabeth H. and Stanley E. Evans Charitable Foundation
First National Bank of Fort Smith
H-E-B Tournament of Champions
William T. & May P. Hennessy Foundation
Funds have been provided by Kansas Health Foundation Children's Fund, administered by the McPherson County Community Foundation.
Killeen Evening Lions Club
OK Foods
ProPak Corporation
Rheem Manufacturing Company
Sam Sicard
Sundt Foundation
Time for Change Anti-Gang Coalition
United Way of Metropolitan Dallas
Walton Family Foundation
Weldon, Williams & Lick, Inc.
ABB
Bayer USA Foundation
Cape Coral Community Foundation
Stanley B. Farbstein Endowment Fund of the Coastal Community Foundation
Publix Super Markets Charities
The Blanche & Julian Robertson Family Foundation, Inc.
Salisbury-Rowan Community Foundation
TE Connectivity
Yamaha Motor Manufacturing Corporation of America
The Boeing Company - Puget Sound
The Bohemian Foundation
Gordon Elwood Foundation
Finnegan, Henderson, Farabow, Garrett & Dunner, LLP
The Ford Family Foundation
Ford Motor Company Fund
Hatton GIBO Charitable Fund
The Longmont Community Foundation
Micron Foundation
OtterCares Foundation
Sandia National Laboratories
Schweitzer Engineering Laboratories
Scottsdale Unified School District Foundation
Sorenson Legacy Foundation
The Summit Foundation
Sundt Foundation
The Weld Community Foundation Littler Youth Fund
Western Digital Foundation
Wyoming Community Foundation
Support the future of innovation
Contact us to learn more about ways to impact children and educators nationwide.
Please note that the majority of photos on our website were taken prior to the COVID-19 pandemic.