Camp Invention Is a STEM Summer Program That Turns Curious Students Into Innovative Thinkers
Secure Your Spot and Save
Enter SAVE15 when you check out to save $15 off our in-person or at-home camp programs.
OR
Registering siblings? Use SIBS25 to save $25 off each child registered for our in-person camp program.
Sibling discounts are only valid for children living in the same household. Discounts cannot be combined.
Reimagine at-home learning with Camp Invention Connect!
Our newest program balances virtual collaboration with independent, hands-on exploration.
Every child can invent
Camp Invention® is a nationally acclaimed summer program where STEM concepts come to life. Led by local teachers, this program has tapped into kids' natural curiosity since 1990, giving them the opportunity to become innovators through teamwork and immersive, hands-on creative problem-solving.
Our camp is designed to keep kids engaged.
We give our campers a strong STEM foundation.
Looking for more programs? We provide STEM education for all ages.
Over 1,600 programs nationwide. Find camps near me.
Find Programs
Share the benefits of innovative learning
Earn rewards when you invite your friends and family to register for Camp Invention®, our flagship STEM education program.
Unlock your child's potential
For nearly two decades, Camp Invention's impact has been measured through independent evaluations. These evaluations have shown that participation in just one week of Camp Invention results in statistically significant short-term and long-term improvements in1:
Creativity
STEM interest
Collaboration
Problem-solving skills
Camp Invention also supports stronger school performance. A third-party evaluation found that participation in Camp Invention contributes to these three key steps to ensuring your child follows a college path2:
Increased attendance
Increase in students' average GPA
Improved test scores
Discover our new 2020 Camp Invention program
To provide a one-of-a-kind experience at Camp Invention each year, the National Inventors Hall of Fame® (NIHF) education team collaborates annually with NIHF Inductees to develop a new and exciting curriculum. 
Our 2020 program, Elevate, sparks excitement and inspiration as children engage in hands-on challenges, discover world-changing inventors, and build their confidence as creators and innovators.
Camp Invention Flight Lab™
Imaginations soar as children learn about flight with paper planes, gliders, rockets, heliballs and hand-copters. They build a cityscape out of upcycled materials, navigate planes through a storm and take apart a robot they'll bring home at the end of the program. 
Design Thinking Project™
Children learn the value of their creativity as they bring their biggest ideas to life. To become successful entrepreneurs, they create sketches, build prototypes, design logos and find out how to market their products while protecting their intellectual property. 
Rescue Squad™
Using teamwork and problem-solving skills, children protect the Earth's ecosystems. Inspiring activities include competing in zipline races, exploring energy conservation, eliminating pollution and helping wildlife in habitats across the country. 
Camp Invention Champions™
As they discover the great inventors behind their favorite sports, children apply their own ingenuity and design thinking. They trade inventor playing cards, create and play their own high-energy hover-ball games, and design and build the ultimate sports complex. 
Watch our 2019 program in action
See a typical day at Camp Invention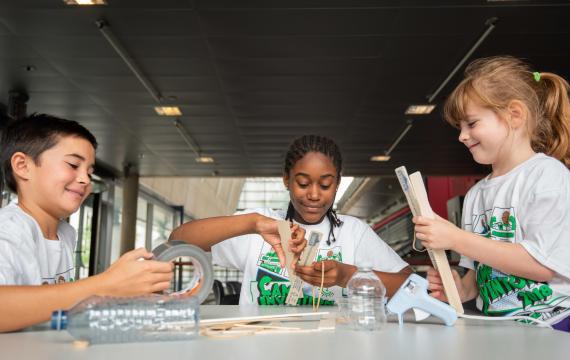 Welcome
Check your child in before our Camp Director kicks off a day of fun!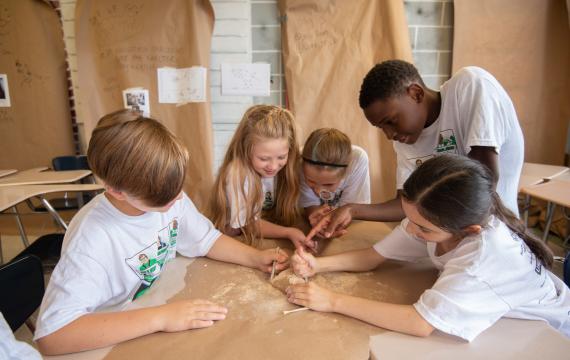 Teamwork
Educators and Leadership Interns gather campers together at Base Camp.
Morning modules
Led by a certified local instructor, your child completes two creative challenges (or modules) before lunch — with a healthy snack to keep their minds moving.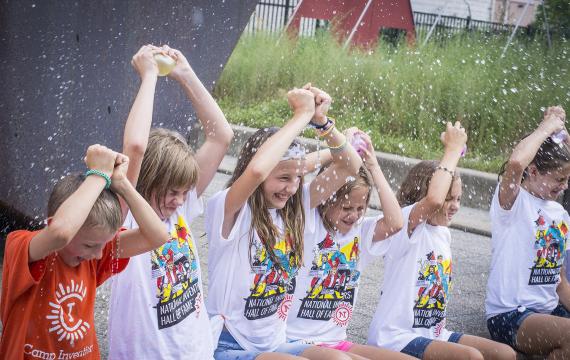 Lunch break
While half our campers eat, the other half refuel with some well-deserved playtime outside or in the gym. Then they switch!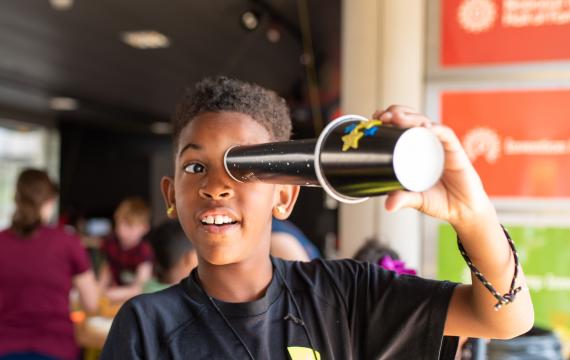 Afternoon modules
Time for two more challenging modules that will inspire your child's imagination.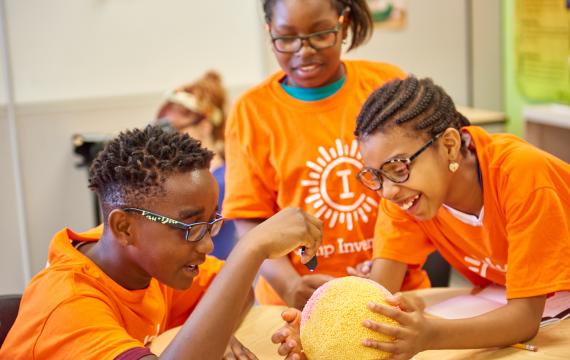 Base camp
Our campers regroup with their Leadership Interns to focus on problem solving — crucial for future inventing (and everyday life).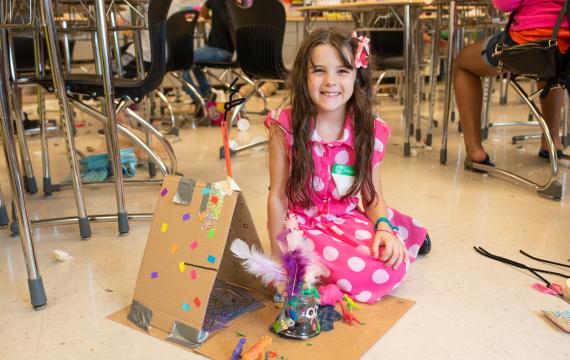 Sign out
Be prepared for lots of updates from your child about how much fun they had at Camp Invention!
The following sponsors help make Camp Invention possible:
MiSTEM Advisory Council Grant Sec. 99s(3) of the State School Aid Act

The Fossum Family Endowment

The Amos E. Joel Young Inventors Endowment

The Al and Helen Free Foundation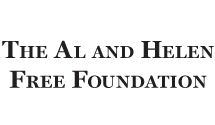 Become a part of something big
Help us make STEM education programs accessible to all children.