Join friends for an awesome camp experience
Our in-person Camp Invention® program invites kids to build both imaginative inventions and lasting friendships. We partner with school districts across the country to provide an in-person experience in as many communities as possible. Programs are typically held at local schools but may also run in other places — like libraries or community centers — that offer enough space for campers to bring their big ideas to life while practicing social distancing.
Camp Invention gives children the opportunity to collaborate, socialize, and most important, have fun with friends! Because our in-person program is led by certified local educators and has always prioritized health and safety, you can relax as your kid has their best experience of the summer.
Here's what an action-packed day looks like with Camp Invention In Person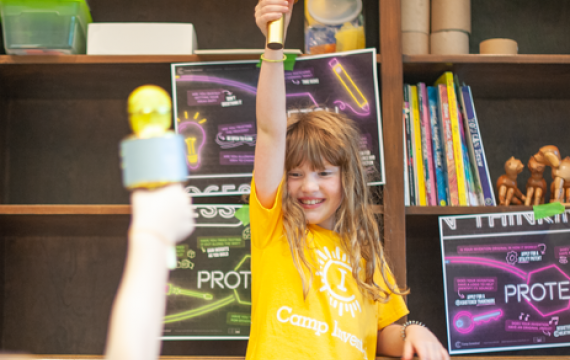 Welcome
Check your child in before our Camp Director kicks off a day of fun and exploration!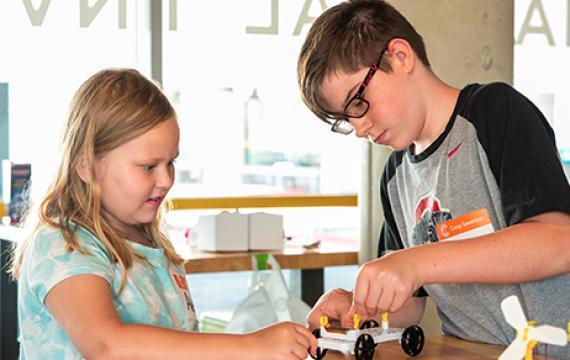 Teamwork
Educators, Leadership Interns and campers start out at Base Camp, where they get ready for an exciting day.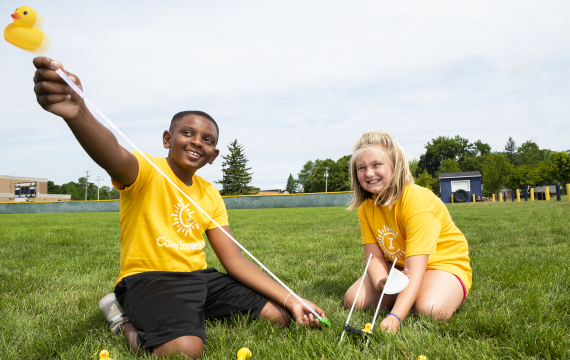 Morning Modules
Campers complete two creative challenges (or modules) and enjoy the healthy snacks they've brought to help keep their minds moving.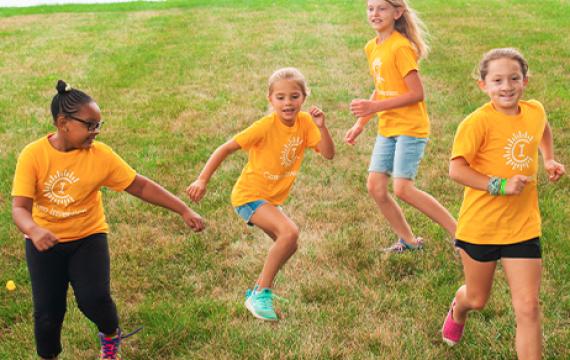 Lunch Break
While half our campers eat the lunch they've packed, the other half refuel with some well-deserved playtime outside or in the gym. Then they switch.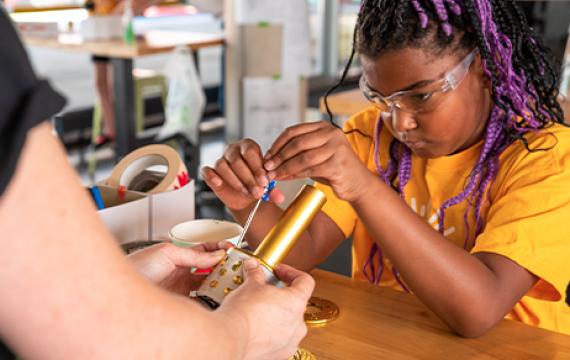 Afternoon Modules
Time for two more modules that will introduce video challenges from world-changing inventors, encourage your child's curiosity, keep them active and spark their creativity.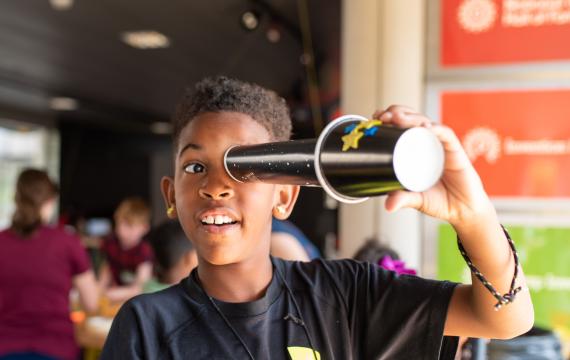 Base Camp
Our campers regroup with their Leadership Interns to focus on problem solving – crucial for future inventing (and everyday life).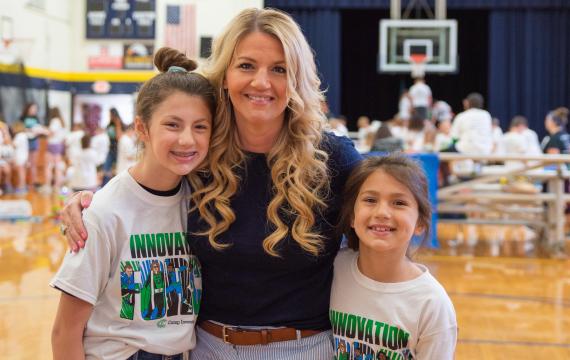 Sign Out
Be prepared for lots of updates from your child about how much fun they had at Camp Invention!
Camp your way - in person or at home
We know how difficult it is to make plans these days. So we're offering a Peace of Mind Promise.
Secure your spot for an in-person experience today, and if you decide you want to switch to the at-home experience, you can change your selection up to six weeks before your program starts. It's that easy.
Check out what families are saying about our in-person camp
"My child has become better at thinking creatively and critically to solve problems. I think it's left her with a more positive impression of STEM."

"It is fun! There are tons of things you can do. I also like that I can spend as much time as I want inventing and that the teacher gave me a compliment when I was making my clay controller."

"They had so much fun learning, building, and making new friends. They are already begging to sign up for next year."

"I sent 3 children to Camp Invention this year. This camp helped my children with their self-esteem and sharing ideas with other children while having the best time of their life. They can't stop talking about Camp Invention and can't wait until next year."

"I took what was inside my head and made it into an invention! I LOVE inventing!"

"My son was nervous on the first day. It was his first year, so he wasn't sure what to expect, nor was I. After the first day, he couldn't wait to go back and is already looking forward to doing it again!"

"It truly challenged my kids and they looked forward to each day's activity with such great excitement."

"After the first day she was so excited to keep going back and was super sad that it was only a week long! She told me about everything that was taught and shown throughout the week with such enthusiasm."

"She wanted to play past pick up time. She couldn't get enough. She'd come home and 'invent' and create even more."

"My 5-year-old daughter, 'I pretty much loved it!' My 7-year old son, 'Why is Camp Invention only 1 week? I want to go all summer!"

"They were always excited to share their day with us. Often times they would just say their day was fine at other camps, but they always were excited to share details after Camp Invention!"

"My children are continuing to talk about inventing even a week later! The creativity continues."