Join other creative campers from home
Our tested at-home Camp Invention® experience delivers all the creative materials, activities and hands-on fun of our in-person camp straight to your door! Step-by-step activity guides help your camper explore how a microphone works, construct their own solar-powered robot, design a morphing vehicle and build a duck-launching device.
Choose a completely unplugged experience or access exclusive digital content and join live instruction and collaboration sessions with a certified local educator and fellow campers to tap into the power of teamwork and friendship. Each day is a new adventure!
Here's what an action-packed day looks like with Camp Invention At Home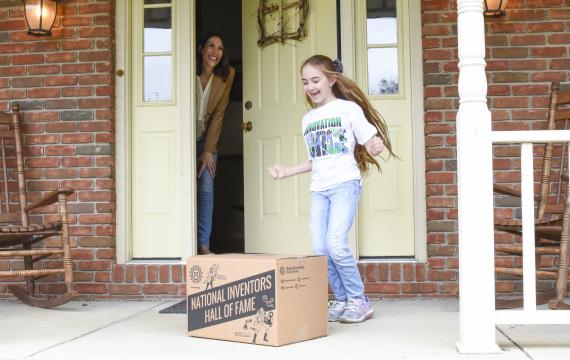 Get Excited for Your Program
Mark your calendar and get ready for a week of real fun and exploration! Everything your camper needs will be sent straight to your home ahead of your program start date.
When your package arrives, open all the activity kits and check out all the awesome materials that will be used throughout the week.
Grab your Activity Guide and look for the password on Page 1 to unlock the online experience pages.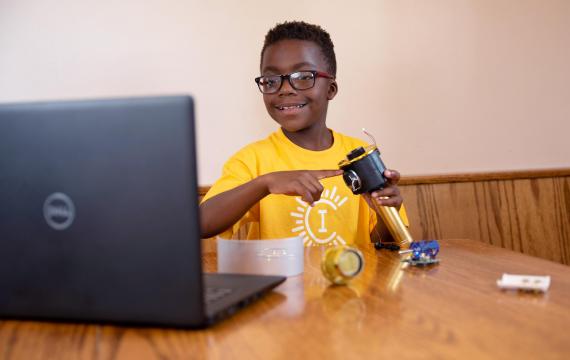 Kick-Start the Day
Kids can join their Coach and fellow campers for a live morning session each day, where they'll jump into the day's hands-on activities together. If your camper can't join live, don't worry — you will have access to videos that go through each activity step by step.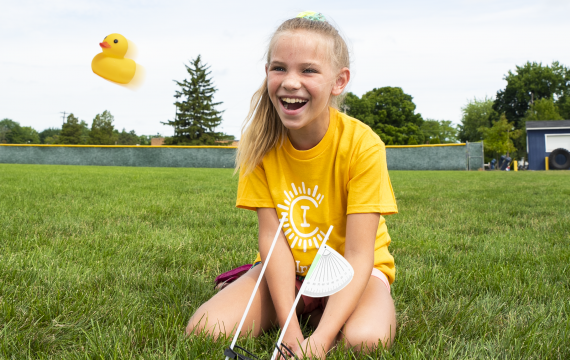 Unplug and Get Creative
Going off-screen, your camper is prepared and motivated to tackle their challenges. We encourage them to take activities outside, so they can get their brain and body moving while exploring new ideas!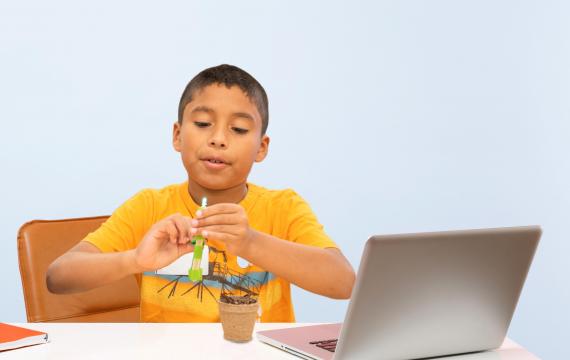 Join the Midday Meet-Up
Kids are invited to join a live midday session for more instruction, collaboration and opportunities to ask questions and share their big ideas.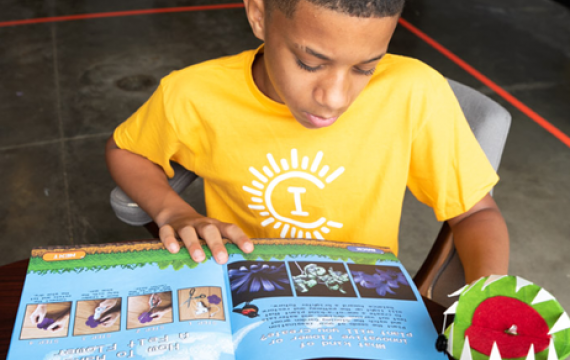 Take a Break, Then Keep Creating
Your camper should be sure to take a break from all the action, get some lunch to refuel, and give you an update on what they've been creating!
When they're ready, they can dive back into their inventions.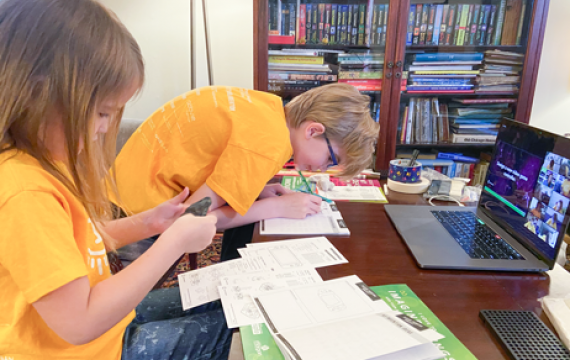 Get Your Teamwork On
In an afternoon collaboration session, your camper can build their teamwork skills, making real connections and modifying their inventions before wrapping up the day's activities.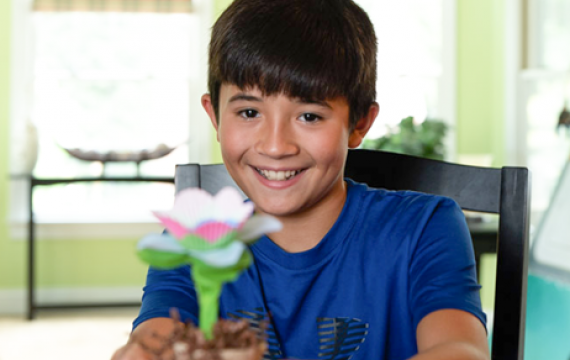 Celebrate and Share
At the end of their week with Camp Invention At Home, campers connect with their Coach to share their creations and enjoy a real celebration of their teamwork, innovation and ingenuity!
Get Excited for Your Program
Take a Break, Then Keep Creating
Check out what families are saying about our at-home camp
"The amount of materials and instructions given made it easy and fun for my son to create and design. He is the only child at home, so for him to be able to connect online with other kids, collaborate and just talk to people his age was important."

"There were so many activities to do! It was so nice to finally see people and have friends again. I loved seeing everyone on the screen as a group when we got to talk about our inventions. I was really happy and I could see everyone else was really happy "

"Rose has LOVED this! She's already got everything out for tomorrow and may sleep in her shirt. AGAIN. Thank you for engaging with her! She really needed this!!"

"It's important to be with friends, so it was so nice to have that in this new way – it was my favorite part, collaborating with others. "

"Gavin had a wonderful time. I was skeptical as he's not a fan of virtual learning but this was a completely different experience. I am super impressed with how you were able to keep everyone engaged. He was so happy all week. Thank you soooo much!"

"My favorite part was sharing my invention idea with everyone. Actually, no, it was making the invention. Dancing to the music on the computer was so much fun. Camp Invention is the most fun I've ever had!"

"My daughters received their kits last week. As we pulled into the driveway, they saw the boxes waiting by the front door. They squealed when they realized it was Camp Invention!"

"As a parent, I'd like to personally thank you for coming up with this creative solution that both guards the safety of our kids and community and still provides a fun experience."

"He loved seeing what other people were working on and having the interaction with the Coach and other students because he has really missed that in school over the last couple months."

"Lucy had a GREAT time with Camp Invention Connect! She has continued to use the supplies and ideas from Camp in her daily activities/playtime. It was also an awesome opportunity to see friends and her teacher while being stuck at home!"

"My child definitely looked forward to working with more STEM projects. After five months of online school, this was a welcomed change for her. "

"My child was a little shy at first about the Zoom thing but after warming up he loved getting on and seeing the other kids and doing the projects. He looked forward to it every day! It was a fun experience! Thank you Camp Invention! "
Camp your way — in person or at home
We know how difficult it is to make plans these days. So we're offering a Peace of Mind Promise.
Secure your spot for an at-home experience today, and if you decide you want to switch to the in-person experience, you can change your selection up to six weeks before your program starts. It's that easy.