Bring Invention Education Into the Classroom With Invention Project
What is Invention Project?
What: Invention Project® helps transform PreK-8 students into innovators by offering 29 uniquely themed modules packed with hands-on challenges that encourage problem finding and solving, risk-taking and exploration. Developed by our team of educators and inspired by world-changing inventors, every experience is aligned with national and state education standards. The program also can be customized to meet your district's unique needs while providing teachers with the tools to spark imaginations and build confidence. Each module is composed of six, one-hour sessions, and all modules offer resources in Spanish. Contact us or complete our online form to bring Invention Project to your school.
Who: Students in grades PreK-8. 
When: Year-round implementation for in-school, afterschool or summer learning. 
Where: Your customized program can be led in person, virtually by an Instructor or student led as an asynchronous approach. 
How: We ship materials to you from our in-house warehouse. Materials are shipped in Individual Sets to make it easy to share with students.
Watch Invention Project in action and learn how educators are using the program in their schools.
Features and Benefits of Partnering With Us
Engaging Curriculum
Designed for hands-on engagement and open-ended exploration, Invention Project empowers students and teachers alike.
Funding Qualified
Qualifies for ARP/ESSER, Title I-IV, 21st Century Community Learning Centers, and Migrant Education, as well as state and local district funding resources. 
Authentic Social-Emotional Learning
Throughout the program, students benefit from authentic social-emotional learning experiences through collaboration.
Stress-Free Implementation
NIHF provides all materials and resources needed for hassle-free implementation, as well as dedicated support throughout the program. 
What is Included in Invention Project?
Educator Resources*
Includes step-by-step curriculum, curriculum support composed of video tutorials, pre- and post-tests, rubrics and book extension lists for turnkey implementation. 
Student Resources*
Includes individually packaged materials, step-by-step activity guide and access to online resources including video tutorials and activity pages that keep students engaged.
*Materials, handouts and supplemental resources vary by module. Select modules are available in Spanish.
Explore a Selection of Invention Project Modules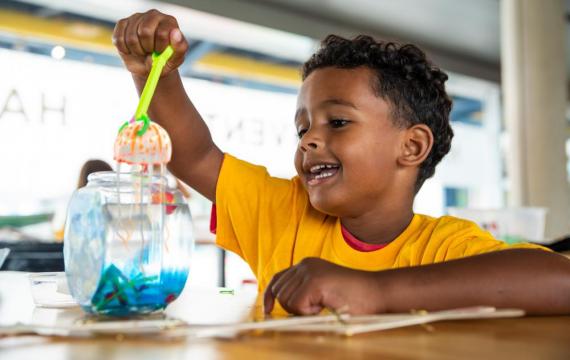 Robotic Aquatics™
In Robotic Aquatics, students dive into the latest ocean research and design a tank featuring a newly created and patented aquatic plant. Throughout the week they craft a habitat for their own aquatic friend, develop their own bio-inspired invention and deliver a pitch that is sure to make a splash.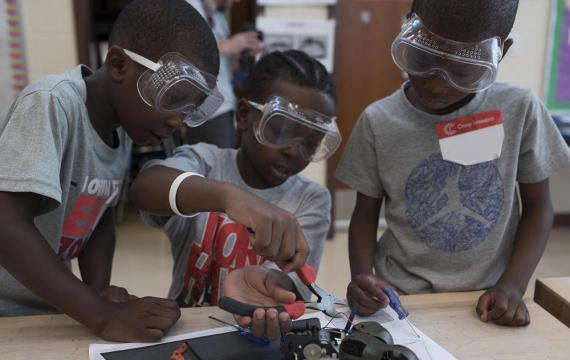 Robotic Pet Vet™
By developing their knowledge and skills in biology, physiology and circuitry to take apart and diagnose robotic dogs, in Robotic Pet Vet, students are able to enhance their problem-solving skills. After helping their pets recover, children celebrate by constructing an interactive dog park attraction.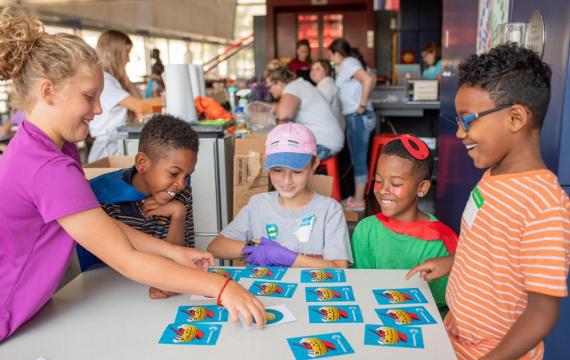 Innovation Force®
During the Innovation Force module, students join a team of NIHF Inductees to solve some of the world's greatest challenges while battling supervillains! With inspiration from real-life inventions, children are empowered to design, build and market an invention that will save the world.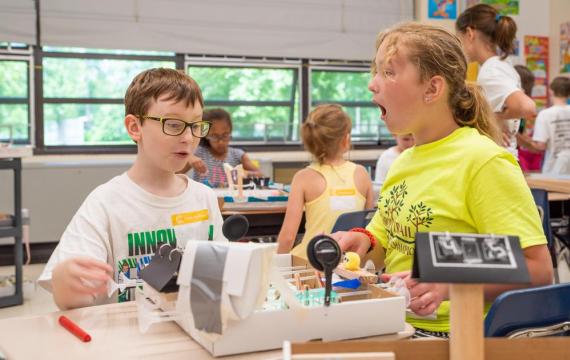 Champions
In Champions, kids discover unseen champions of the sports world and explore how innovators have changed the way people experience sports. They draft inventors and inventions to add to their Innovation Dream Team and use their inspiration to build the ultimate sports complex!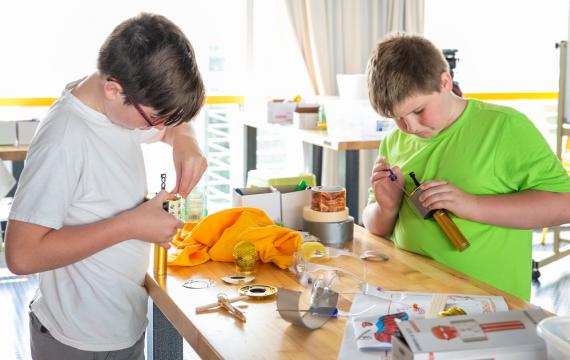 Open Mic™
In this empowering module, children voice their ideas as their imaginations are amplified through invention and entrepreneurship! First they engineer a wireless microphone, and then they follow the Camp Invention Design Thinking Process™ to develop and pitch their own amazing inventions.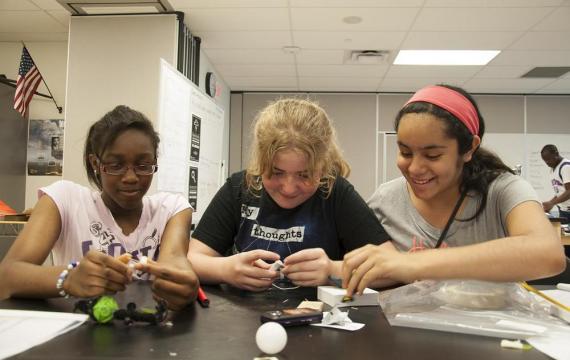 Wear It Out™
In Wear it Out, students combine creative ideas and maker materials to invent clothing and accessories that are both fashionable and functional. They employ divergent and convergent thinking and creative problem solving to engineer clothing of the future that responds to extreme weather.  
What Educators Are Saying About Our Education Programs
"All of the resources and materials provided were the best part. It makes things so easy to step in and teach the students."

"I believe it is vital for our students to be exposed to and experience the benefits of collaborating, the freedom to create and explore, and the exposure to other careers they may not have known about before."

"As a classroom teacher I am always looking for new innovative ideas to stimulate my students. I participated to explore new topics and interesting hands-on approaches to teaching."

"The organization of all of the curriculum was great and made the facilitating for the teachers really easy."

"I love the lessons and how they support our standards."

"All of the events and parts of the program were meaningful to our students and our teachers. It's amazing to see our students create all of the inventions!"
Bring Invention Project to Your School
Bring Invention Project to Your School